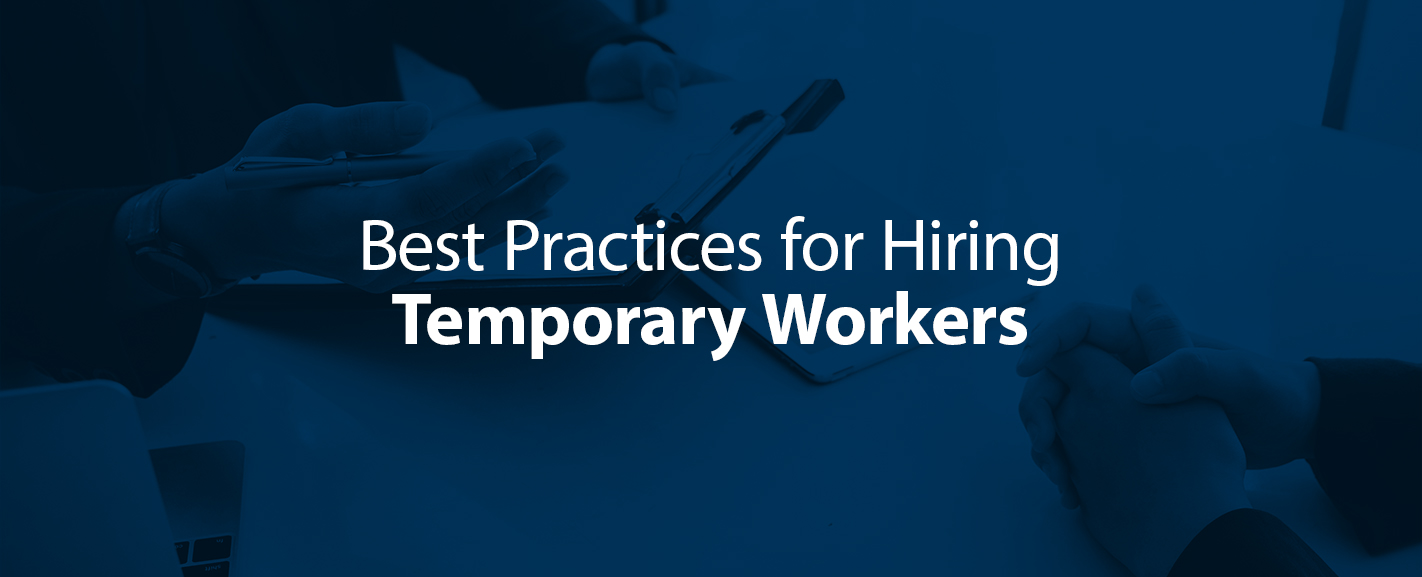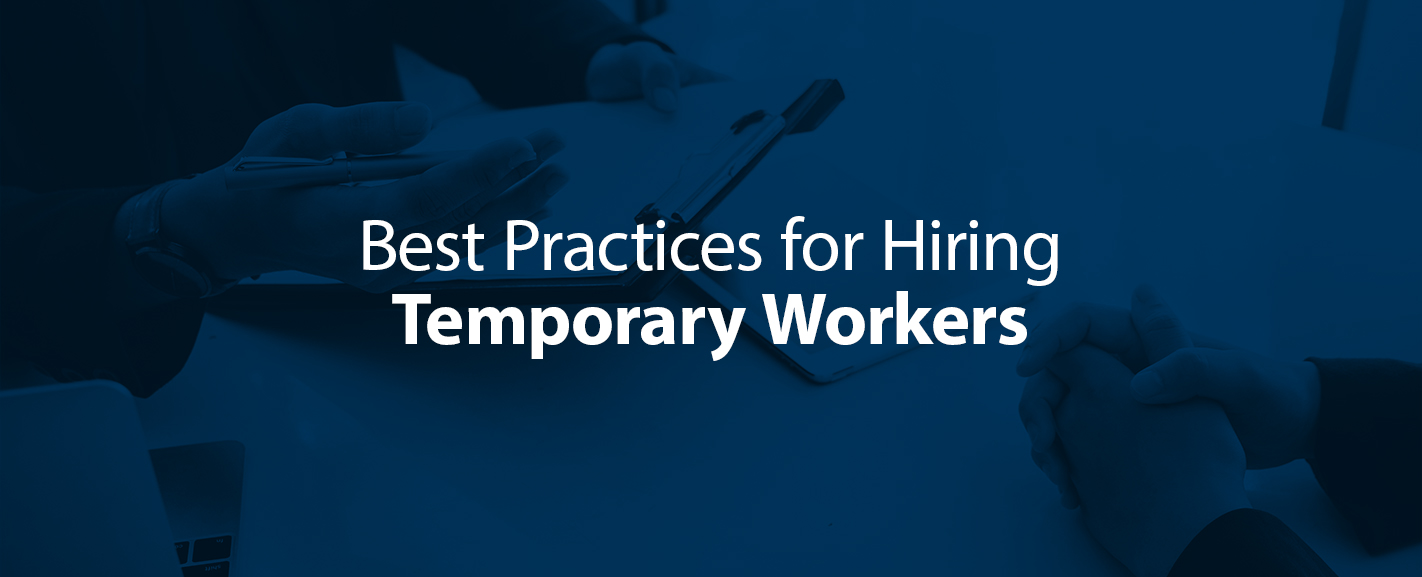 Best Practices for Hiring Temporary Workers
Last updated: March 29, 2021
With approximately 16 million temporary and contract staffing employees in the U.S. workforce, it's clear that temp workers play a critical role in our economy. Businesses use temporary employees to fill gaps in their full-time staff, whether in terms of numbers or skills. If you are considering hiring workers on a temporary basis, we have some information to help you better understand and navigate this process so you can enjoy a successful partnership with your temp workers.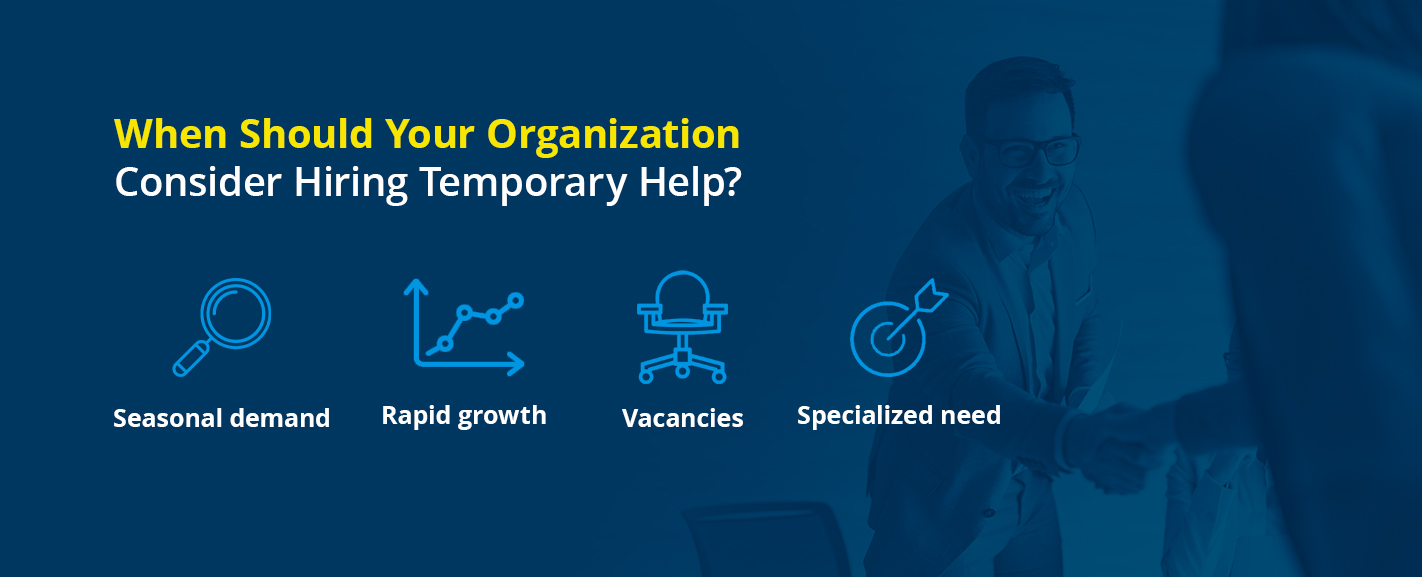 Companies in nearly all sectors rely on temporary help at times. More than a third of all temporary employees are in the industrial sector, but many temps also work in offices and even in managerial roles. A smaller number of temps also work in STEM and health care.
You should hire temporary workers whenever doing so helps you meet your immediate or long-term business goals. Consider some common reasons for hiring temporary workers.
Seasonal demand: Many businesses experience inconsistent traffic, with some seasons being far more demanding than others. For example, retail businesses often need to hire seasonal help to keep up with increased shopping around the holidays. Accounting firms may hire temporary workers to prepare tax returns during the tax-filing season. When you know your need for additional employees is short-term, it makes sense to bring seasonal temp workers on board.
Rapid growth: A quickly scaling business is another scenario where it may make sense to hire temporary workers. This solution can get you the additional staff you need right away while you determine your business' direction and figure out how many new long-term employees you need. You may even choose to offer some temp workers a permanent position if they turn out to be an ideal fit.
Vacancies: An unexpected vacancy is another situation where you may have an urgent need for staff. For example, an employee may resign suddenly, leaving their position open. A traditional hiring process can take a long time, so filling the position quickly through a temp agency can be a strategic move while you find a long-term solution. You can also use temps to fill temporarily vacant positions, as in the case of a parental leave period.
Specialized need: Some companies may realize they need to bring in an outside expert to solve a particular problem, help develop a new product or accomplish a specific goal. While you may think of temp workers as unskilled workers, temp workers today span industries and position levels. Some temporary workers are contractors who are experts in their field.
Many companies have discovered the benefits of temporary workers firsthand. Here are some advantages you can enjoy.
Fast solution: When you need extra help right away, a traditional recruitment process can take far too long. In these scenarios, a staffing agency can quickly connect you with vetted candidates who are likely good fits for what you need. Since the agency has already completed much of the recruitment process, all you need to do is confirm their picks, and you can quickly have the extra help you need.
Access to experts: Especially when you hire independent contractors, you can access experts who expand your company's capabilities. For example, a company may hire a freelance copywriter for a marketing campaign. A general contractor may hire a certified electrician to assist with a remodel project, and a law firm may temporarily bring on an attorney with a proven track record on a specific type of case.
Cost-effective labor: Hiring temps can also be more cost-effective in some scenarios. With a temp worker, you pay for what you need and nothing more. In other words, you don't have to pay an employee's full-time salary plus benefits for a year when you only need part-time help or assistance during a busy period.
Potential for permanent employment: In temp-to-hire situations, you can evaluate a temporary employee's performance on a trial basis. If you're pleased with their work and how they integrate with your team, you can offer them a long-term position with your company. It can be an excellent recruitment method when you need to fill a gap quickly, but then find you'd prefer to hold onto your temp employee.
Easier termination: Temp employees know they're only with you for a short time, so termination of temporary employment is a much simpler process than ending an indefinite employment contract. You don't have to deal with severance pay or other costly complications. Instead, when your fixed-term contract expires or you no longer need an employee's services, you can let them go.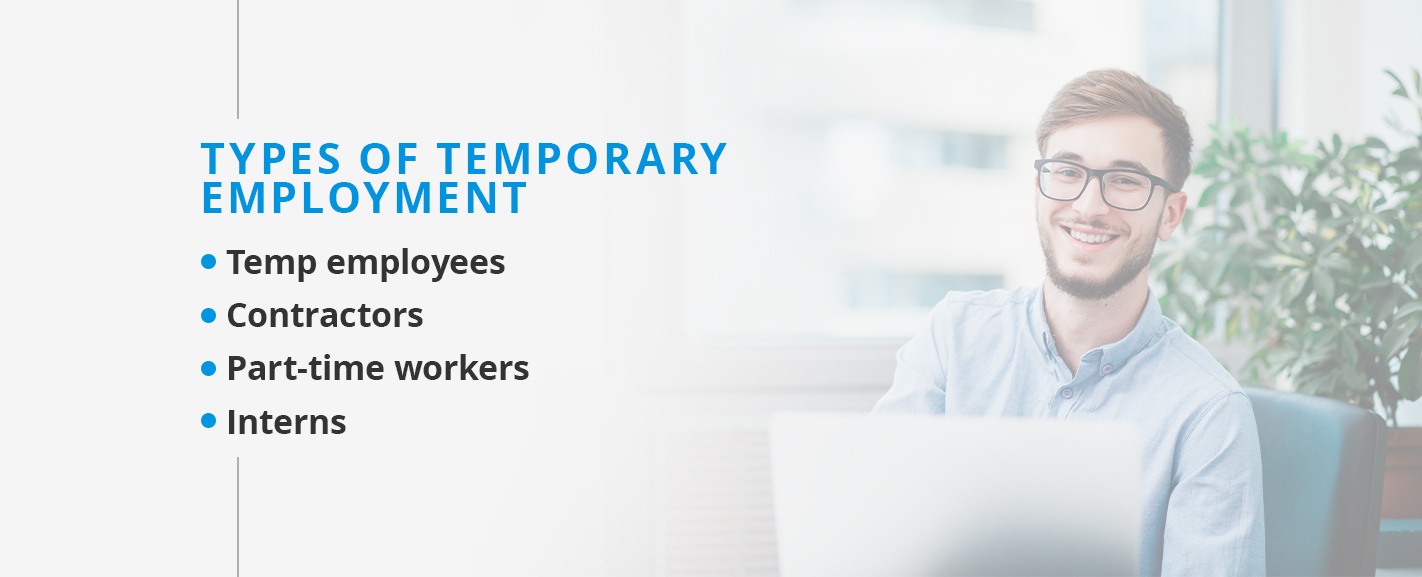 Employees eligible for temporary work fall into four overarching categories, each of which comes with potential advantages.
Temp employees: A temporary employee, also referred to as a temp, is a worker you employ either part-time or full-time for a set duration — usually no more than a year. You could hire them directly or use a temp agency to help you fill a position. When they start a job, temp employees know the opportunity is not long-term. However, while they typically don't receive the same benefits as standard employees, they tend to participate in staff meetings and other all-hands-on-deck events.
Contractors: Contractors are independent workers who either contract their work themselves or work under a contracting company. Either way, when you hire a contractor, you don't have to offer benefits or provide equipment as you would in a traditional full-time employment relationship. Companies usually hire contractors because they need someone with a specialized skill set for a particular project or task.
Part-time workers: Part-time workers may or may not be temporary, as some of these arrangements remain long-term. Part-time work is especially prevalent in the service and retail industries. The Bureau of Labor Statistics counts anything from one to 34 hours a week as part-time work. Part-time employees can work shifts when other employees are off, such as evenings and weekends, or they can bolster your numbers during busy times. Part-time employees usually get paid by the hour, and their schedules may change from week to week.
Interns: Internships are temporary appointments usually offered to recent graduates or current students. Internships aim to be a stepping stone from a student's education to the workforce. Because interns gain valuable experience and may even earn a spot at your company long-term, internships may be unpaid. Some companies choose to offer paid internships, though they still typically pay less than they would a standard employee.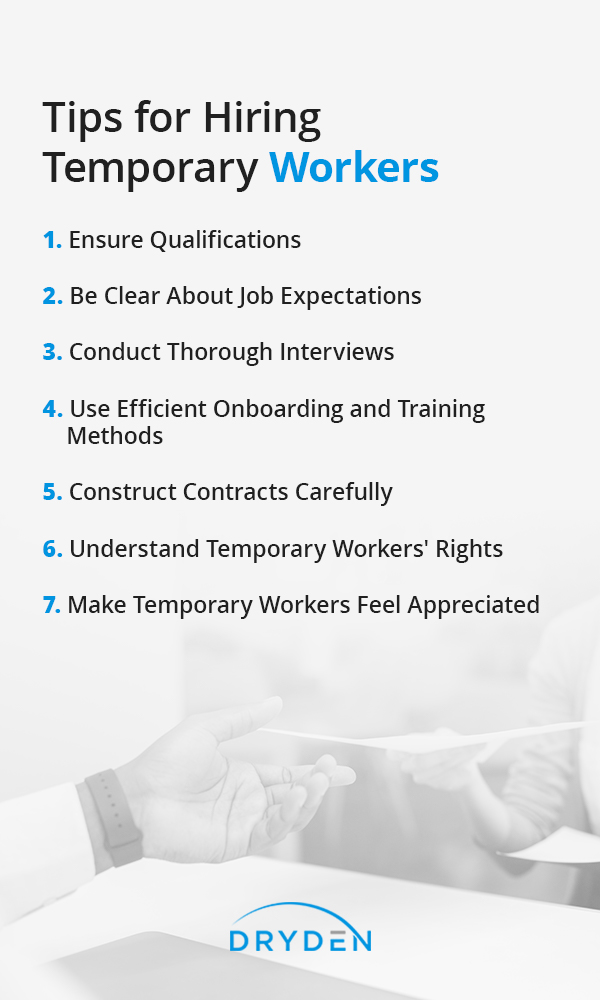 If you want to hire temporary workers, familiarize yourself with these best practices, so you can navigate the hiring process effectively and get the most out of your temp employees.
When you need a temp worker, you don't want to lose valuable time employing a worker who was never the right fit for the position to begin with. Just as with full-time hires, pre-employment screenings are essential for ensuring a worker has the qualifications you need. Especially if you're hiring workers for client-facing roles, you want to make sure you only bring on people who will represent your business positively.
If you hire temp workers internally, you can still outsource background checks and other screening procedures to a third party to save time. If you partner with a staffing agency, they should handle these screenings. Be straightforward about what qualifications you need from candidates. These may include a minimum level of education, years of professional experience, proficiency in a specific skill or a particular certification.
You don't want to leave a temp wondering what their role will look like in your workplace. Outline the hours, job duties and other pertinent details. You can include this information in your job ad if you're hiring directly. Or, if you're using a staffing agency, make sure you communicate this information so they can choose workers who would be a good fit for your needs.
When a new temp arrives at your workplace, take the time to ensure they understand the job responsibilities and ask if they have any questions. It's best to define expectations from the start of an employment relationship, even a brief one, to avoid misunderstandings and ensure a successful partnership.
Interviews aren't only essential for full-time hires. You can learn information about a candidate through an interview in ways you can't glean from a resume. Especially if you're hiring a temporary worker for a role where their communication skills will be critical, conversing with them across the table, or even over a phone call, can help you get a better feel for them.
If you work with a staffing agency, they should have interviewed candidates as part of their pre-approval screening process. However, it's still wise to conduct interviews with these people to ensure they will be a good fit with your company culture and represent your business positively.
Onboarding and training are crucial steps in establishing the employment relationship and preparing new employees for success. But what if you're hiring an employee to fill a role for only a month or two? With the time and expense companies typically invest in new hires, it can take up to six months of employment before your business breaks even.
This level of investment may make sense in a long-term employment relationship. However, for a temp, you need to carefully develop a maximally efficient onboarding and training process, so employees can get to work quickly and immediately start contributing to your company's success. That's also why it's critical to choose qualified candidates who won't require much training to start work.
Written contracts are an essential means of governing employment relationships and arrangements between companies and independent contractors. Temp agencies often provide these agreements, but you should ensure you and the agency are on the same page. If you're hiring workers directly, be sure to implement a straightforward contract that includes the terms of employment, including any non-disclosure or non-competing agreements if necessary for legal purposes.
If you're hiring a contractor, you should take some time to learn about these contracts' typical structure and ensure the agreement protects both parties. These arrangements will not focus on employment terms, but rather the project's circumstances, deliverables and pricing.
Especially if you're hiring temporary workers directly without going through an agency, it's crucial to understand temp workers' rights. As with long-term employees, federal and state employment laws protect temporary workers. They have the right to the following.
Equal opportunity: Employers must abide by anti-discrimination laws and treat all employees fairly, regardless of their gender identity, sexuality, religion or other protected classes. You must also respect the Americans with Disabilities Act and provide temps who have disabilities with the accommodations they need.
Safety: All workers deserve a safe work environment. All regulations from the Occupational Safety and Health Administration apply to temps just as much as they do to standard employees. For some jobs that may be more inherently hazardous, this means offering adequate training, personal protective equipment and other required safety measures.
Overtime pay: Full-time temps who are not exempt according to the Fair Labor Standard Act should receive overtime pay if they work more than 40 hours per week.
Tax withholdings: You or the temp agency — whoever is officially the worker's employer — must withhold employment taxes from employees' paychecks and pay the IRS on their employees' behalf. Note that this is not the case for independent contractors you hire.
You may not have to offer your temp workers some benefits, like health insurance or paid time off, especially if they are part-time, but you should consult your state laws and company policies to make sure you know all your temporary workers' rights.
A 2017 European study found that, while temporary workers can improve profitability, they could adversely affect a team's performance and morale. This consequence is far from inevitable, though. Companies can enjoy a more positive and synergistic relationship with temps by putting some effort into making sure temps feel appreciated and part of the team.
There shouldn't be a divide between temp workers and long-term employees. Find ways to foster a culture of motivation and commitment among employees, so each feels like a valuable member of the company. Temps help companies meet their goals, so their work should not go unappreciated.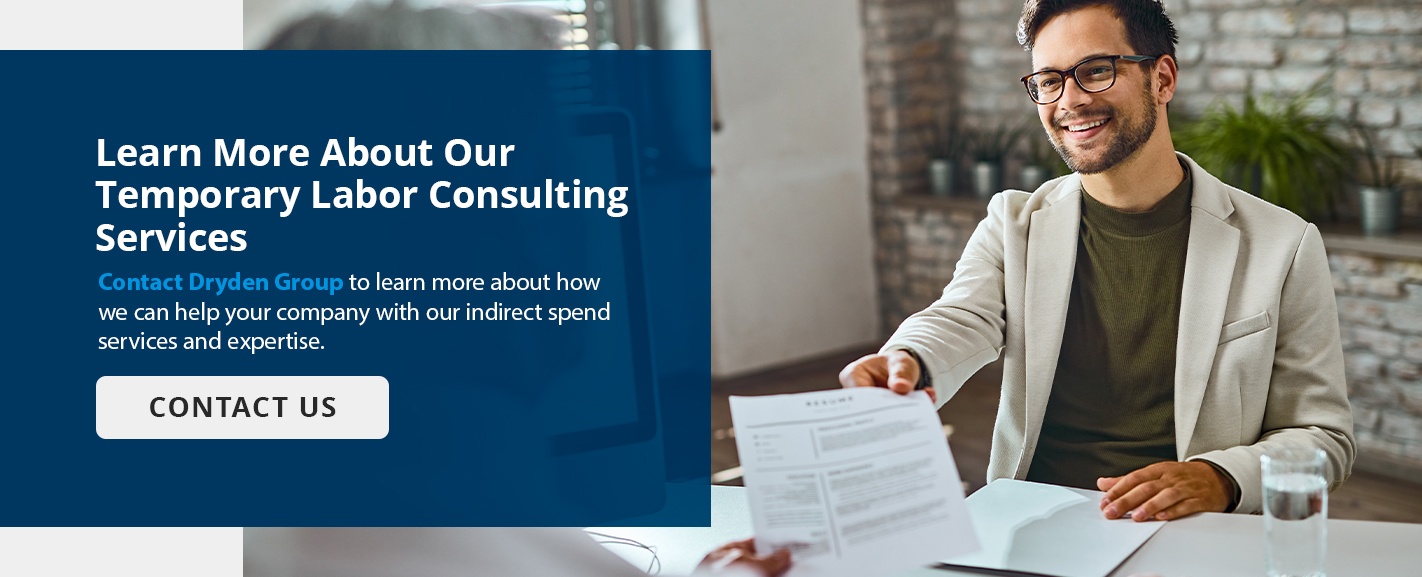 At Dryden Group, we understand that strategic and agile companies take advantage of various solutions, including temporary employment, to help them achieve their goals. We can help by using our proven methods of benchmarking and auditing your company's indirect spend, including on temporary labor, and can recommend ways to reduce your costs while allowing you to reap the same benefits or better.
Our data-driven strategies can give you the step up you need to make your company more efficient and improve your bottom line. Contact Dryden Group to learn more about how we can help your company with our indirect spend services and expertise.
Sources