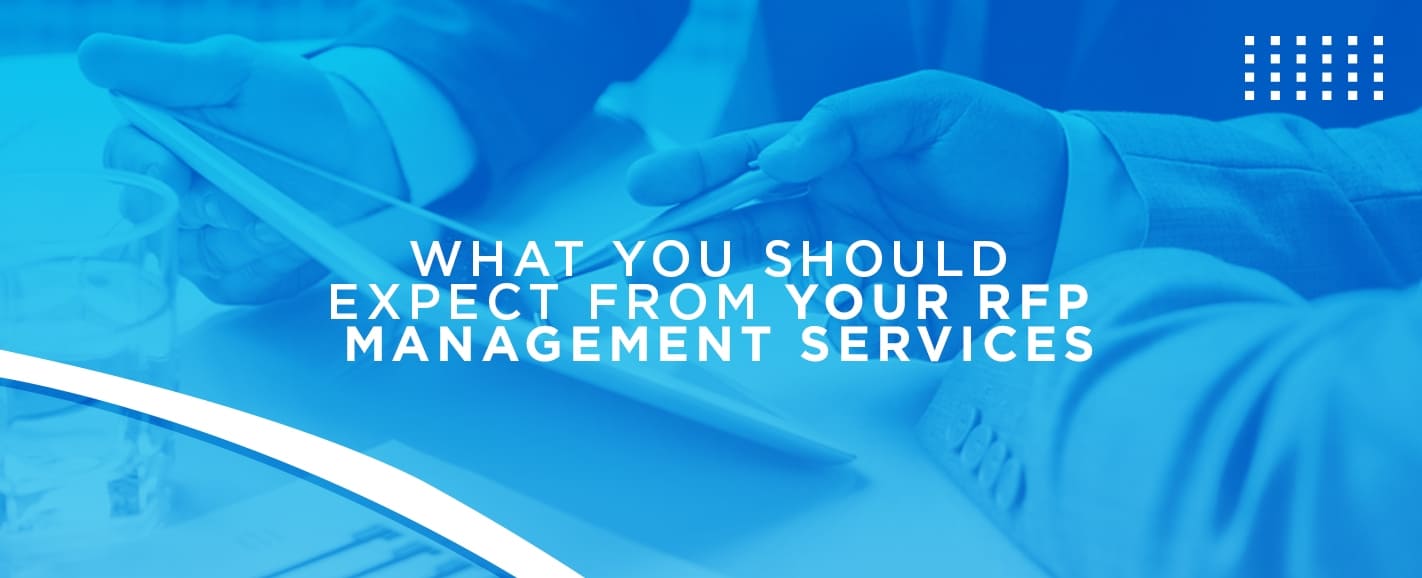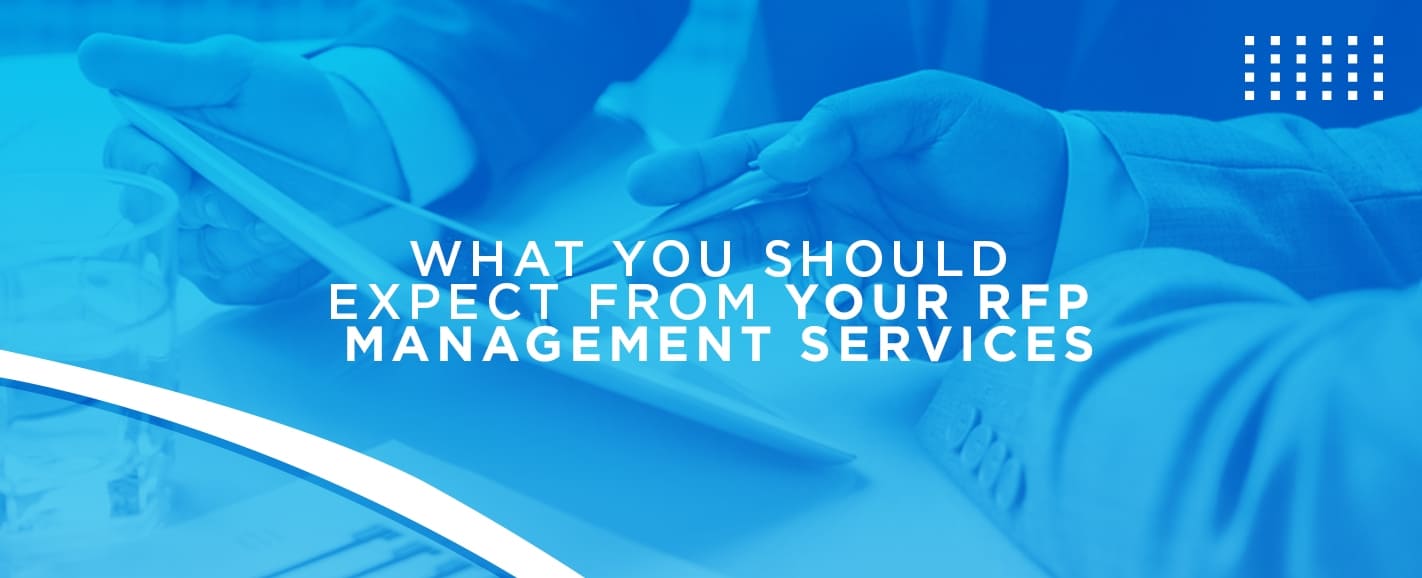 What You Should Expect from Your RFP Management Services
Last updated: January 8, 2019
When your company needs to hire a new indirect commodities vendor, how should it go about doing so? One option is to search online or seek out recommendations from colleagues or friends to find businesses that offer the services your company needs. Another option is to issue a request for proposal (RFP).
What is an RFP? It's a document that outlines your company's — or specific project's — needs and what you are looking for from a service provider. The goal of an RFP is to identify and partner with a vendor that will be a good match for your business.
While an RFP can streamline the process of finding vendors, it does require some effort to put together an effective request. An RFP management service firm can work with your company throughout the process of putting together a request. The firm can also help to make sure your RFPs get in front of the right vendors so that your business saves money and time in the long run.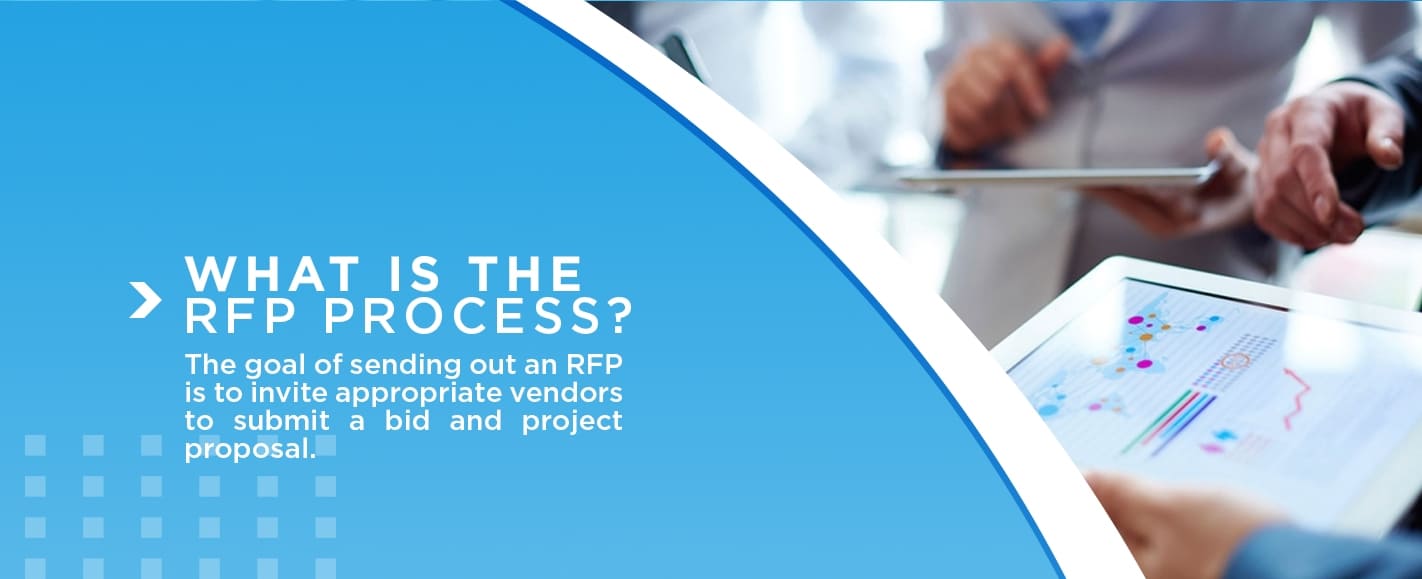 The goal of sending out an RFP is to invite appropriate vendors to submit bids and project proposals. In such a proposal, a vendor will provide an estimate or quote for its services. The proposal should also include details about the services the vendor will provide, an estimated timeline for the project, if applicable, a plan for action and a list of deliverables. Since the proposal in many ways serves as an introduction of the vendor to your business, most vendors will also provide background information in their proposals about who they are and what their company's mission is.
When your business hires a firm to manage the RFP process, the firm will handle the requirements of putting together the RFP. One significant benefit of working with such a firm is that your company can rely on the experience the firm has with the RFP management process. For example, when your company is preparing its first RFP, it's not uncommon for a bidder to offer feedback and recommendations for adjusting the RFP based on its past experience.
When a knowledgeable firm with years of experience managing RFPs is at the helm of the RFP process, the need for bidder commentary is often eliminated. The firm you choose to work with should have enough experience to know what belongs in an RFP and what types of questions it should include in order to to bring in the best possible proposals.
In addition to putting together a request for your company, a good RFP management service provider can contribute much more to the process. For instance, the firm can also recommend particular vendors to invite to the RFP process. Once the request has gone out and proposals start coming in, the firm can also evaluate responses to the request, identifying quality proposals and helping your company negotiate a contract with winning vendors.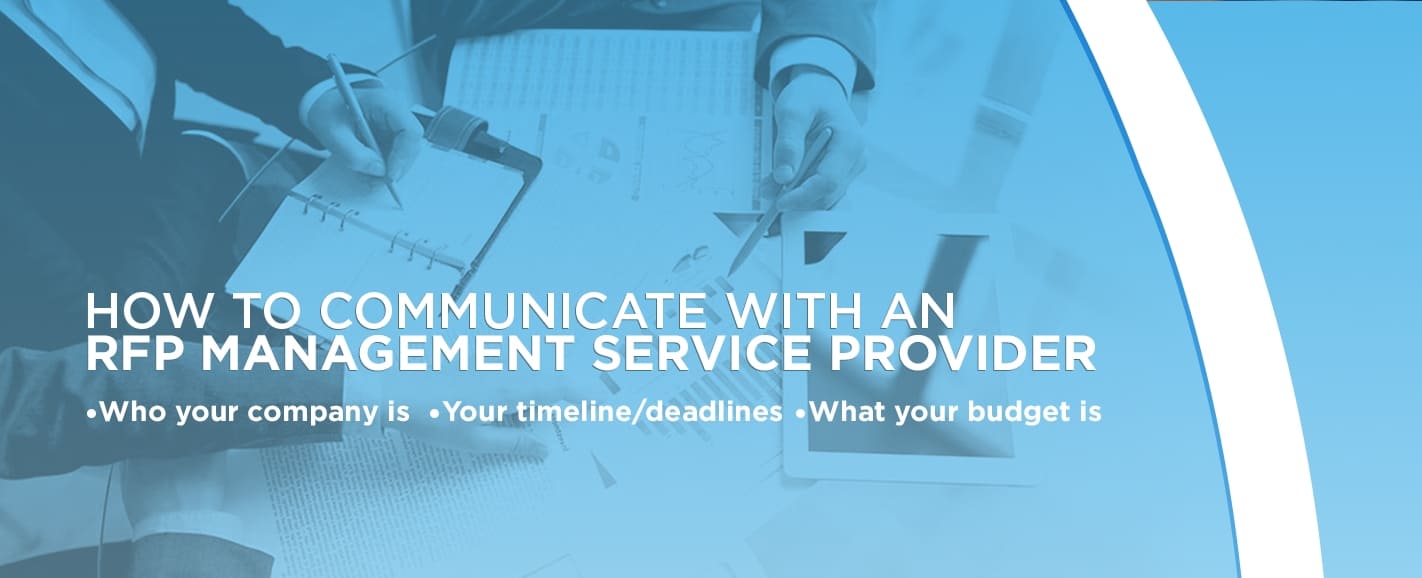 When you outsource RFP management services, you'll want to share plenty of information so the firm can work with your business to craft a request that encompasses your needs and can recommend the best vendors to invite to the submission process. Here are a few things you'll want to share with the management firm:
Who your company is. Before it can put together an indirect commodities RFP for your company or recommend the best indirect commodities vendors to invite, an RFP management firm needs to know who your company is. Provide the firm with background about your business, including your mission, what services or products you provide and the biographies of your management and leadership team. The more the firm knows about your company, the more customized they can make your RFP. Knowing your company's backstory can also help a firm recommend the best vendors.
Your timeline/deadlines. The firm needs to know your deadlines, including those for getting the RFP out and for accepting proposals. It's also important that you lay out a timeline for the project. When do you hope or need to have it completed? Can the project be completed in phases, or do you need everything finished at the same time?
Your project details, desires and needs. It's essential that the firm you're working with knows what your project is and what your specific needs are. Sharing the details of your project with the firm allows them to see if it is in their realm of experience — for example, indirect commodities such as buying office supplies or finding a company to repair equipment. Providing the details and scope of the project also helps a firm connect you to the most appropriate vendors.
Your budget. The management firm needs to have a sense of what your company is willing to spend on the project. You can include what your ideal budget is, as well as what your maximum or upper limit is, to give the firm a comprehensive idea of your financial constraints — if there are any. Sharing your budget with the firm will allow it to invite vendors who are within in your price range to submit. This can also reduce frustration, as vendors who aren't within your price range are less likely to submit proposals.
Who you think an ideal vendor might be. When you think about hiring an indirect commodity vendor, what do you envision? Painting a picture of your "dream vendor"  can help the firm you're working with better understand what your goals and expectations are. The firm is also better positioned to send the most appropriate vendors your way if it has a complete picture idea of what you're after.
The unique challenges or obstacles your company faces. It's also a good idea to let the RFP consulting firm know about any unique challenges your company has that might affect the RFP. For example, if your company uses older computer equipment, it might be more of a challenge to find a vendor who can work on it or repair it. If your company is committed to being eco-friendly, it will be important to find a cleaning service that only uses "green" products.
After you've found a firm and shared the details of your needs and wants, they will go to work putting together an RFP that attracts the right vendors and that best serves your company. During the process of creating the RFP, the consulting firm might ask you for more details or help you further hone or tweak certain aspects of your request. Some of the areas the firm will likely focus on when putting together your company's RFP include the following:
Your goals. Including your goals for the project is essential in an RFP, but you want to avoid being too specific or overly detailed when laying out your goals. An effective RFP will explain what you are hoping to achieve, without leaving vendors who read it feeling constrained.
Your budget. If you have a general idea of your budget or how much you have to spend but aren't sure if it is realistic or in line with market values, the RFP management firm can offer advice and perform research to help you understand what types of services or products you can get within your budget. When putting together the request, the firm will outline your budget and detail what you can expect to get for your money.
Your deadlines and schedule. How long will the project take, or when do you expect that you'll need the services you're requesting? It's common for companies to be too optimistic when it comes to deadlines and timelines. An RFP management firm will listen to your scheduling needs and create a timeline to include in the request that is realistic and achievable.
Appropriate vendors. While the management firm won't include a list of the vendors it recommends in the RFP, it can identify ideal vendors and companies it thinks would be a good fit for the project. When creating the request, the firm will keep those target vendors in mind and will most likely include details in the request to make it more appealing for such vendors to submit a proposal. The management firm will also outline the criteria you should use to evaluate vendor submissions and ultimately choose the winning proposal.
Along with fine-tuning the details of your request, the management firm will include questions in the RFP to help vendors put together their proposals and submit detailed bids to your company. The questions should provoke answers that paint a picture of what the vendor can do for your company and how what it offers is better or more appropriate for your business than what other companies can offer.
Once your RFP has gone out, you'll ideally get multiple proposals in response. At this stage, an RFP management firm can help you sift through the proposals, separating the "good" from the "bad" and narrowing down your list.
One advantage of working with an RFP consulting firm to evaluate proposals is that the firm can provide extensive experience assessing submissions and knowing what makes a proposal one worth considering. A few signs of a bad proposal include:
It's outside your budget. When a proposal comes in with an expected cost that is outside the budget listed in your RFP, it can mean a few things. One is that the team writing the proposal saw your budget and ignored it. Another is that the team writing the proposal didn't take the time to read the RFP closely and missed the budget section.
It doesn't answer any of the questions. A proposal that doesn't answer the questions you put forth in the RFP should raise a few eyebrows. It suggests that the people creating the proposal either couldn't respond to what you were asking or weren't interested enough to do so.
It provides limited information about the vendor or what the vendor does. Just as the RFP should provide vendors and bidders with a full portrait of your company and a detailed explanation of your project needs, the responses to it should give you a good idea of who the bidders are and what they offer.
Meanwhile, a good proposal is likely to include the following:
A detailed plan for how the vendor will meet your request. What's the vendor going to do for your company, and what sets them apart from others? A good proposal will help you see exactly what you will get if you choose a particular bid.
What the vendor needs from your company to fulfill your request. While it's important that a vendor outline how they'll solve your problem, it's also important that their proposal detail what they'll need from you to do so. The more detailed the requirements, the better you'll be able to see if the vendor is a good match for you.
Proof of experience/references. Although it's likely that you'll receive submissions from vendors who were invited by the consulting firm, it's also a good sign if they take the time to demonstrate their experience in their proposal and offer you a list of references who can vouch for the quality of their service or the value of their products.
A common struggle companies have when creating and sending out an RFP is finding the right vendors. Working with an RFP consulting firm gives you the opportunity to identify and invite appropriate vendors to bid on your indirect commodities RFPs. The consulting firm can identify the most appropriate vendors upfront, meaning that you are more likely to get responses to your request from companies you would benefit from working with.
After the responses come in, the firm will evaluate each one, including the proposals from its recommended vendors and those from companies it might be less familiar with. Along with assessing the quality of a vendor's proposal, an RFP management firm can look at the big picture, evaluating a company's reputation and past performance when helping you narrow down your choices and choose the right vendor.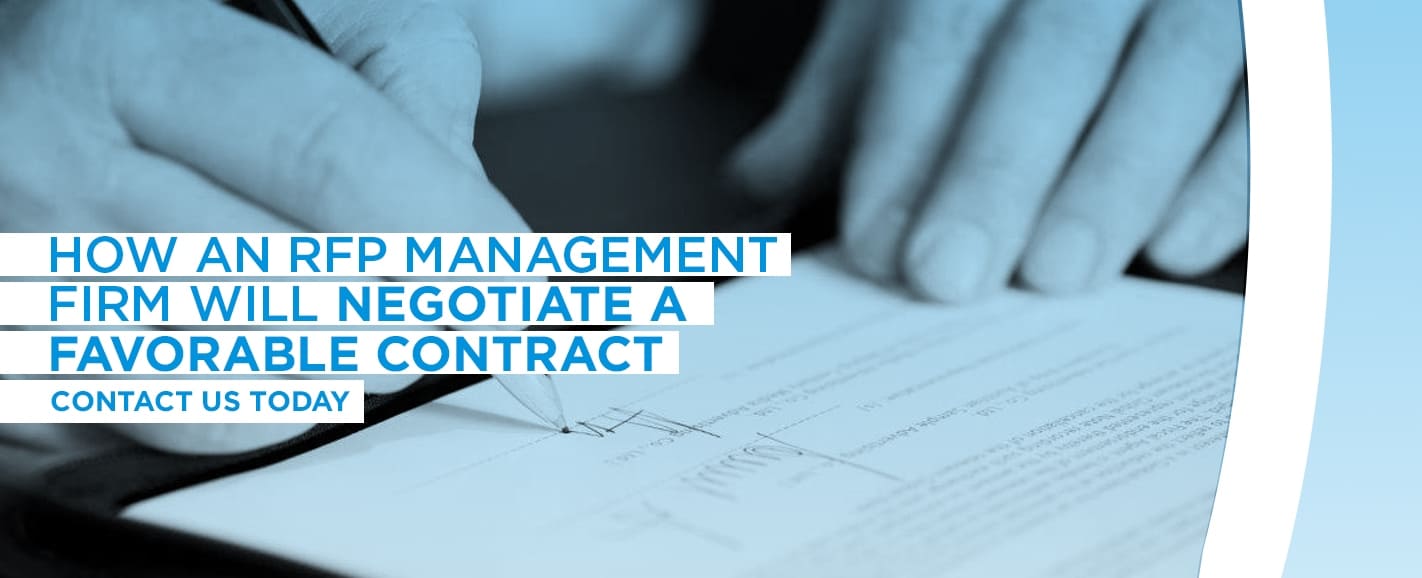 Once your company has determined the proposal that seems to be the best fit, your work — and the work of the RFP management service — isn't finished. The next step is to work with the winning bidder to develop a favorable contract. An RFP consulting firm can help to negotiate a decent contract for you by evaluating the terms and conditions of the proposed contract and helping you see how they benefit you or how they could be potentially harmful or challenging. Additionally, the consulting firm can use benchmarking to help you see how the vendor's proposal stacks up to similar offers and whether or not the terms of the proposed contract would ultimately lead to you paying above-market rates for particular services or products.
The RFP process can be complicated and confusing, and it can end up producing less-than-desirable results if you aren't sure how to go about it or what to include in your request. Working with an RFP management service not only helps you find the best vendors and put together a request that fully details your project and needs....it can also save you a considerable amount of time and frustration.
Dryden Group has been providing procurement services and indirect commodities RFP management services to clients since 2001. To learn more about how we can help your business, contact us today.