Impact of Amazon on Standard Suppliers and Distributors (B2B)
Last updated: April 16, 2020
The proverbial "Amazon effect" has reached the $6 trillion B2B distribution market — and is already causing significant change.
The roll-out of Amazon Business means a new playbook influencing how suppliers and distributors keep business functions competitive. Given Amazon's scale and market share, the company can leverage significant power over traditional supply chain operations and models. When such a large player shakes things up, the ripples are felt everywhere.
In this guide, we're exploring how distributors — both those working with Amazon and those not — can adapt nimbly to an industry so influenced by one player, plus the business advantages of doing so.
Amazon Business officially launched in 2015. However, its marketplace offshoot dedicated to office products and industrial supplies had existed for years via AmazonSupply — which itself spun off from the exponential growth of its parent B2C e-commerce platform.
Amazon Business' value propositions parallel its B2C platform, namely in its extensive catalog of hundreds of millions of products, a Business Prime account, instant price comparisons and free, two-day shipping on many orders. Access to Amazon Business is granted through an application. Once approved, organizations receive registered administrative accounts to enter the enterprise-exclusive marketplace and can order from a slough of new or familiar participating suppliers, as well as from Amazon-branded merchandise.
This model gives Amazon enormous power to negotiate vendor terms. As more organizations seek the deals and amenities exclusive to Amazon Business members, more producers, suppliers and distributors themselves will feel compelled to work with the behemoth, catering to its business models, contract terms and annual negotiations.
Between 2012 and 2018, Amazon's B2C platforms grew from roughly 500,000 available products to now well over 500 million. Its growing market share means substantial leveraging power reshaping end-to-end producer supply chains, with suppliers and distributors already feeling the effects.
To quantify just how impactful Amazon is across today's production, retailing, e-commerce and logistics ecosystems, consider these broader statistics:
More than half of all online product searches start on Amazon.
Nearly half (44%) of all online sales take place on Amazon.
Amazon Prime memberships now exceed 101 million accounts — more than half (62%) of all U.S. households.
More than 21 public companies disclose generating 10% or more of their total revenue through Amazon
All Amazon Business suppliers must comply with Amazon's Supplier Code of Conduct. This "Supplier Code" outlines expectations for the lawful, ethical, safe and sustainable supplier business operations across a series of categories. It applies to both direct suppliers in Amazon's supply chain (manufacturers, licensed producers) as well as subcontractors and third-party groups used by those direct suppliers.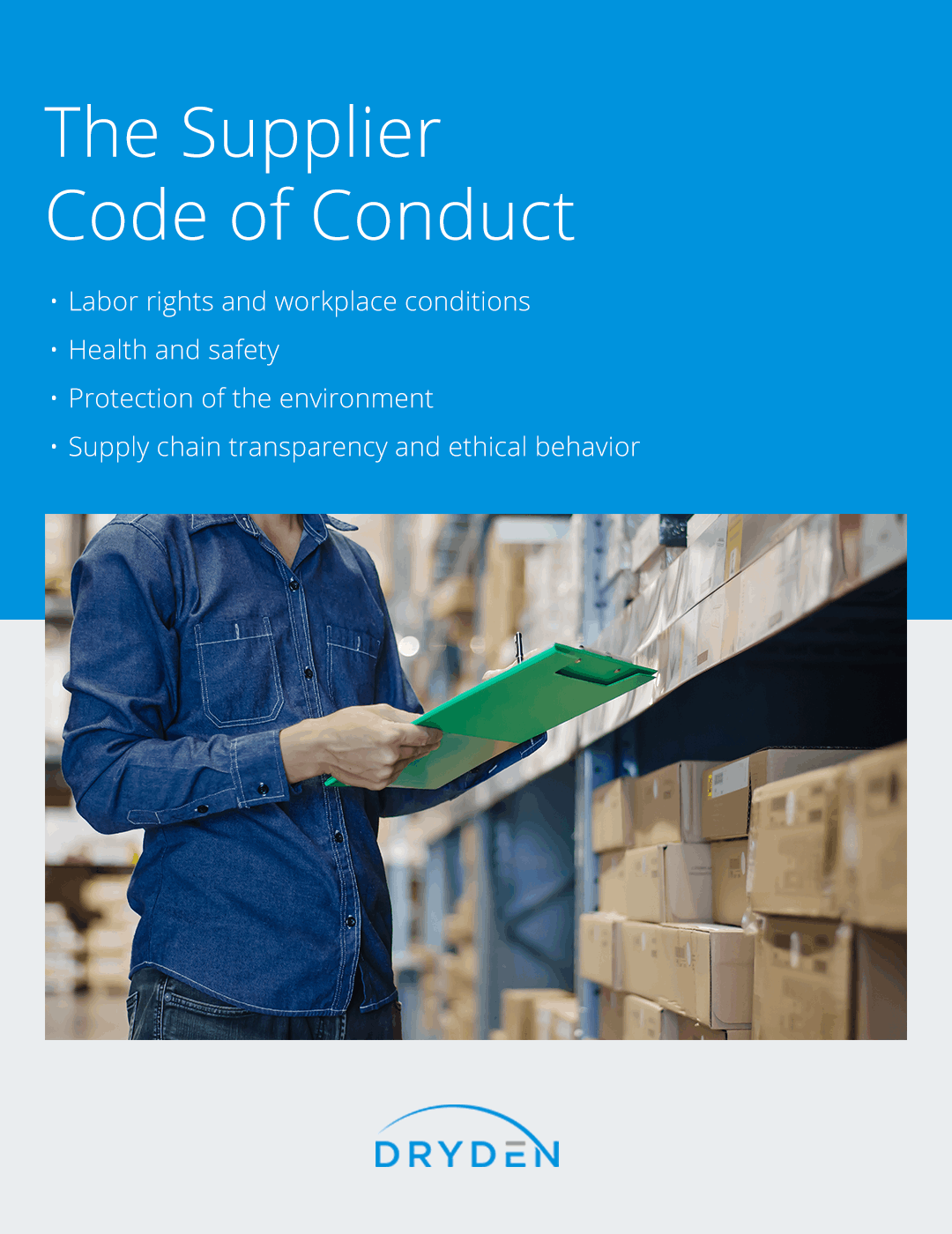 Amazon lists four key areas, or domains, at the heart of its Supplier Code.
Labor rights and workplace conditions: Suppliers must abide by relevant U.S. and international worker laws, including wages, working ages, shift lengths and conditions, fair workplace treatment and freedom of association with lawful organizations.
Health and safety: Suppliers must maintain safe working conditions for all employees, with access to protective equipment, machine safeguards, healthy environments and other country-specific mandates.
Protection of the environment: Suppliers must dispose of hazardous materials as well as any production byproducts in accordance with lawful disposal procedures while protecting workers from exposure.
Supply chain transparency and ethical behavior: Full and proper supply chain documentation must be maintained, including clear and accurate records, contracts and historical logs overseeing operations and employees.
Amazon Business accepts two kinds of audits before approving suppliers for product manufacturing and distribution. Those two audit types include an Amazon Managed Audit or an audit administered by an approved industry association (the amfori BSCI, Responsible Business Alliance, etc.).
Core procedures during a supplier audit include:
A complete site inspection
Thorough review of operating documentation such as contracts, vendor agreements, employee records and more
Confidential worker/employee interviews
Amazon suppliers must develop formal corrective action plans (CAPS) if issues or discrepancies in standards are identified during the audit process.
All suppliers receive the results of their audit, including a summary of issues or compliance concerns. Suppliers are given a reasonable timeline to address these issues under a formal, documented CAP, outlining root causes and exact remediation steps.
Amazon encourages the Plan-Do-Check-Act (PDCA) method of supply chain management, which recognizes the complex logistics networks at the heart of the industry while still maintaining risk mitigation standards. Amazon Business allows suppliers to govern their own supply chains but expects all associated subcontractors, partner vendors and labor agents to adhere to Supplier Code policies.
Amazon reserves the right to make on-site visits to production facilities, solicit direct workers' feedback, request additional supporting documents, track CAP efforts and investigate further aspects of supplier operational logistics. They also reserve the right to suspend orders and terminate partnerships when a supplier "refuses to remediate or fails to make meaningful progress" regarding overall supply chain tenets.
Amazon has proven itself not only a revolutionary logistics coordinator and supply chain disruptor — but as a new breed of e-commerce company altogether. With Amazon Business, its attention now turns to the B2B manufacturing and distribution marketplace where it's already making waves.
How do distributors — both those it does and doesn't work with — adapt while maintaining authentic yet profitable operations in an increasingly Amazon-influenced business environment? Consider these distribution and supply chain best practices.
Part of the reason for Amazon's massive success has been its remodeling of the online buying experience. From its earliest days, leaders sought to build an inherently user-friendly platform not only in design but also in features. Amazon wanted to curate a completely different approach to buying goods online, then solidify that approach as the market expectation.
With such a competitive buying experience onus, Amazon created an interface prioritizing the most robust, user-rich features and affordances possible, features that brick-and-mortar businesses weren't replicating. The company is still lauded for many of these features today, including:
Instant product price comparisons
The "endless aisle" phenomenon
In-depth product or vendor reviews
A streamlined product return procedure
Shop-by-voice integration via Amazon Alexa, a revolutionary voice-command technology
B2B organizations today must similarly prioritize a convenient, contemporary and personalized buying experience online to remain competitive with industry trends.
Amazon's scale and supply chain savvy has spawned renewed investments in agile internal logistics. To stay competitive, producers and distributors alike are re-evaluating every function in their current supply chain systems for waste, redundancy, inefficiency and opportunity gaps without compromising on product or service quality.
Often, these supply chain overhauls are included in annual strategic planning, with procurement, purchasing and supply chain managers spearheading new priorities and resource allocation. Strategic initiatives increasingly focus on morphing agile supply chains that are more flexible, responsive, connected and data-informed than past operations. Additionally, these operations are being tracked in real-time, with updates relayed back to C-suite level executives to collectively analyze.
The Amazon effect has unequivocally altered how fast consumers expect deliveries to arrive at their doors. This goes for B2B clientele as well, ordering products and materials online, from fundamental office supplies to business software to cleaning products to industrial lab and healthcare merchandise.
There are several key ways B2B distributors can adapt to speedier delivery expectations, both in direct and indirect distribution changes:
Partner with 3PLs to expand distribution center (DC) footprints: A 3PL can integrate with ordering systems to pick and pack orders at the facility closest to the end consumer, then ship it same or next-day. (More on this strategy below.)
Synthesize on-demand and historical order data: Distributors can better optimize inventory levels across the current DC by harmonizing real-time ordering data with historical inventory cycles data, rather than relying on one forecasting method.
Invest in warehouse automation: Specifically, distributors benefit from high-speed AI sorting systems and picking and packing bots, many of which run on automated programming that can significantly boost throughput cycles.

B2B distributors experience a number of advantages by expanding their distribution center ecosystems — even with the increased costs associated with it.
Given the smaller, regional warehouse locations, distributors can trim delivery timelines and schedules to stay competitive with Amazon's overnight and next-day shipping guarantees. Customer order data can identify products most popular in certain regions, informing those products' higher inventory levels at relevant regional DCs. While this strategy inherently increases inventory expenses, it's one of the most practical out there, even mirroring some of Amazon's own micro-DC network practices.
Technology continues to be the defining catalyst in today's evolving distribution business models. In fact, research shows that since 2000, over half of Fortune 500 companies have disappeared due to not integrating cutting-edge technology. These forgotten companies serve as warnings against ignoring innovative logistics software and hardware.
In the supplier and distributor ecosystems alike, rapidly advancing technology increase supply chain operations' efficiency and accuracy including:
Social, mobile, analytics and cloud (SMAC) digital transformation
Manufacturing and warehousing wearables
Artificially intelligent bots
Real-time inventory monitoring systems
Automated alert systems
Cognitive-computing machines
And many, many more
Amazon has long broadcast the guiding approach to its core business model — exceed the expectations of the public. Jeff Bezos himself is on record many times, extolling the importance of "working from the customer backward," meaning framing value propositions around the most pressing customer pain points, conveniences and needs, then working out the details from there.
Amazon is far from the only company doing so. Name-brand industry disruptors like Airbnb, Uber and Netflix have catapulted into consumer consciousness because, simply put, they offer the best solution for everyday people's needs. However, these solutions rely on fresh technology to propel appealing new business models.
B2B distributors today can work to re-frame operations around the end user. Furthermore, organizations have more means than ever to discover those end users' views:
Ongoing voice-of-customer research
Social media monitoring
Client polls and satisfaction surveys
Net promotion exercises
Consumer decision-process research
Price and positioning testing
Behavioral data (including cookies and browser data)
Today, both B2B and B2C customers have an "omnichannel demand" ingrained into their consciousness. This creates ongoing consumer expectations that they can research and purchase nearly any product, from any supplier or brand, from virtually anywhere — their office, their home, even in the reception room at the dentist. The omnichannel expectation also includes using various kinds of devices to shop, from desktops and laptops to mobile phones, tablets and — increasingly — voice consoles.
Amazon was pivotal in placing retail and industry ecommerce center stage and is now the de-facto method for industry purchases and procurement. B2B distributors and others in the industry can respond by leveraging similar omnichannel affordances, namely through:
Choice in shopping platform: Shopping and ordering activities are fully available online or in-store, plus curated through the device most convenient for the end user.
Choice in payment: Supplier, vendor and customer payment methods are suited to end-user preferences, both in terms of flexible financing timelines and accepted forms of payment.
Choice in delivery: Shipping is available to a B2B client's office, stores or facilities, as well as bulk pallets to regional distribution centers for pickup, if more convenient.
Supply chain agility is an emerging philosophy in supply chain management and structuring. Created in part to keep pace with Amazon's pricing and delivery speeds, a truly agile supply chain eliminates data silos between logistics functions and creates streamlined, cost-effective order-fulfillment workflows — those able to adapt to industry disruption.
There is no single formula for integrating an agile supply chain. Rather, distributors and producers employ a series of process tweaks and infrastructure updates, ultimately positioning their workflows as more capable of responding to — if not preempting — industry change. Often, this looks like:
Real-time, automated warehousing management systems with automated, downstream function updates
Order management systems integrated with relevant 3PLs to route orders that send delay alerts and communicate about inventory levels automatically
Outsourced geographic warehousing, especially during peak sales cycles
Predictive analytics managing streamlined inventory ordering
Finally, distributors should remain tuned into the latest transportation and fleet management innovations. Both front and back-end delivery functions are seeing rapid technological and vehicle developments. Even small and medium-sized distributors can keep pace by integrating tools to shorten loading, unloading and related in-house logistics, or by partnering with a transportation 3PL whose own fleet integrates next-generation infrastructure, such as:
Automated guided warehouse, port or loading dock vehicles
Warehouse, distribution center and delivery drones
Mobile routing and re-routing technology that gives real-time route updates to drivers to cut road time, fuel costs, logged miles and carbon emissions
Eventually, driverless trucks following remotely monitored routes
From procurement consulting and strategic sourcing to overall supplier relationship management, trust Dryden to find insights and innovations primed for your supply chain.
Select the supply chain consulting services most aligned with your goals, then get in touch to see how Dryden can help turn those goals into achievements.