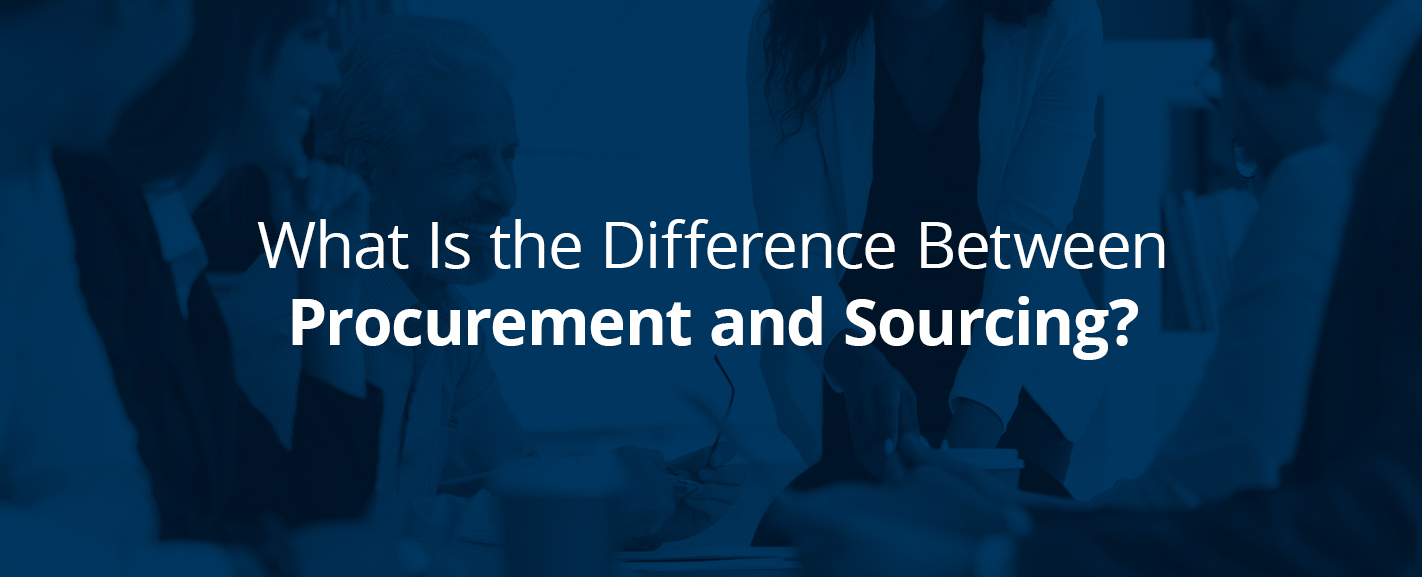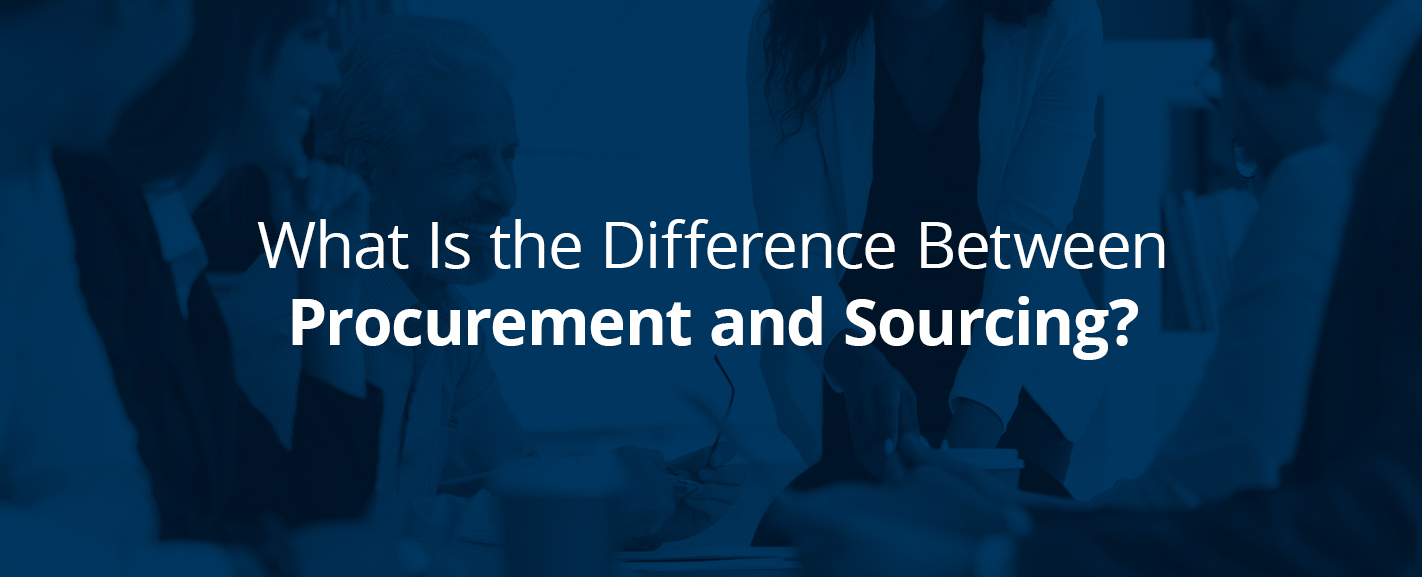 What Is the Difference Between Procurement and Sourcing?
Last updated: August 24, 2020
Within the world of supply chain management, you're bound to find job titles and even departments dedicated to procurement, purchasing, sourcing or any combination of the three. So, what exactly are sourcing and procurement? You may find your role encompasses both functions or is intertwined with a sourcing or procurement manager. Indeed, there are many similarities between these two critical business processes. Through this guide, we'll compare sourcing vs. procurement and help you lay the groundwork to achieve excellence in both.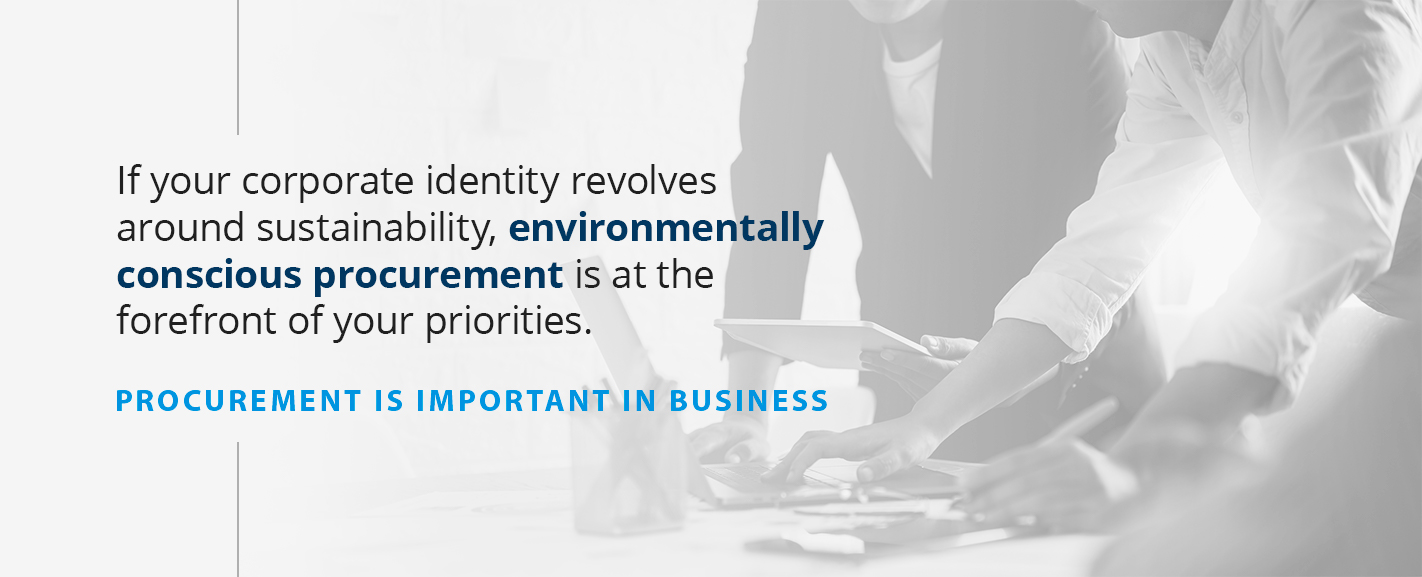 World-class companies have an average of 42.79 full-time equivalent procurement employees per $1 billion spent. In comparison, other companies have an average of 60.6. What does this metric tell us? Effective procurement can save your entire organization time and labor costs.
Procurement can impact your business to its very core. If your corporate identity revolves around sustainability, environmentally conscious procurement is at the forefront of your priorities. Further, meeting your customers' demands for quality, speed and price rely on you sourcing materials that align with those needs. Your supplies, whether they are materials for a product you sell or office supplies, fuel your business. Every company needs specific resources, and sourcing and procurement offer other benefits like:
Comprehensive procurement management saves your company money. The prices you pay for raw materials, parts and other supplies influence your profit margins. The more you pay, the lower your margins will be. Procurement and sourcing managers compare rates between suppliers and negotiate to earn better prices and more favorable payment terms.
Further, they consider the lifetime cost of ownership rather than the lowest price. For example, when buying new printers for an organization, it might be more affordable in the long run to order the more expensive model. By paying more upfront, you can pay less in repairs later and won't have to replace items quickly.
Procurement and sourcing also involve contracting for third-party services, like accounting. By hiring business services, an organization can save time and money versus hiring a full-time, in-house specialist. Experienced professionals can do specific tasks faster than an internal employee in a jack-of-all-trades role. Hiring the right suppliers lets your business double down on its core strengths, saving more time and money.
Running out of supply at the wrong time can leave a business in a tough position. If you don't have access to raw materials, you might have to delay production. Being out of stock leads to missed sales opportunities and can damage your relationships with your customers. Even running out of printer paper can cause unexpected fallout.
An effective procurement strategy prevents these scenarios with advanced planning. By carefully forecasting demand and understanding how long it takes for your company to run low on critical items, you ensure you always have the supplies you need.
Working with external vendors often comes with more risk. Without the direct oversight you have over internal resources and departments, there are more chances for hangups. For example, a critical supplier could go bankrupt, leaving you without a raw material you need. You also run the risk that suppliers won't follow your standards, using low-quality raw materials or cutting corners during production.
Close relationships help you discover problems with suppliers and resolve them quickly. A robust procurement strategy involves creating strong ties with your key suppliers to mitigate those risks. It also means establishing alternate sourcing for supply chain disruptions caused by natural disasters or other threats you can't control.
Sourcing and procurement are two overlapping concepts that are often used interchangeably. Still, there are some distinctions between procurement vs. sourcing, and they refer to slightly different ideas. Essentially, sourcing is just one of the activities that goes into the procurement process. Procurement also involves planning, purchasing and inventory management. Sourcing is one of the first steps to procurement, which covers the end-to-end process of managing supplies for an organization.
The basic definition of sourcing is the process of finding and vetting suppliers. It can also require managing relationships with those suppliers and developing a network of alternate vendors. The level of detail involved in sourcing depends on the resources you can dedicate. Sourcing managers find the raw materials that meet their organization's or customer's criteria.
The sourcing process involves first understanding customer needs. From there, sourcing managers can create a list of ideal supplier qualities that align with your organization's goals. Some suppliers may focus on cost savings, large volume orders, reliable delivery or superior materials.
Once the sourcing department knows what to look for, they can begin assessing options. After looking into possible suppliers, the sourcing manager will then make contact and get more information. Sometimes, it makes sense to send a request for information (RFI) to learn more and ensure they meet requirements. If an RFI isn't necessary, you might reach out with a request for quote (RFQ), which lays out the material specifications in detail. Suppliers will then respond with a quote.
Next, the sourcing team will narrow down their options and negotiate contracts with suppliers. With the contract signed, the sourcing team will continue to manage the relationship. This may involve monitoring timelines, gathering data on performance and enabling better collaboration.
While sourcing will generally follow these steps, it can look different depending on how the company treats the process. Sourcing falls into two categories — strategic and tactical.
Focusing on the long term saves time and helps organizations grow. Balancing cost against other key factors, like reliability, and maintaining a holistic view of the sourcing process can earn you a better reputation with both suppliers and customers. Strategic sourcing encompasses many sourcing strategies to help businesses achieve this. It involves identifying your spend profile and current suppliers to ensure requirements align with providers.
To source strategically, you need a proactive, comprehensive and continuous evaluation of your sourcing activities. You must focus on finding the lowest cost of ownership rather than the lowest upfront cost. This approach also seeks to build relationships with suppliers. Sourcing managers compile in-depth profiles of their suppliers' core competencies and periodically reevaluate them to ensure they align with business interests. They combine spending analysis, supplier vetting, relationship management and market research.
Many companies engage in a short-term, reactive approach to sourcing. Of course, with so many competing priorities, sourcing doesn't always receive as much attention. Consequently, tactical sourcing aims to find the lowest possible cost without considering supplier relationships and risks. The focus on suppliers' key capabilities and building relationships is diminished. It's harder to optimize processes since they often happen on a case-by-case basis. The advantage of tactical sourcing is it doesn't use significant investments in technology and skilled labor. However, tactical sourcing often creates hidden costs down the road.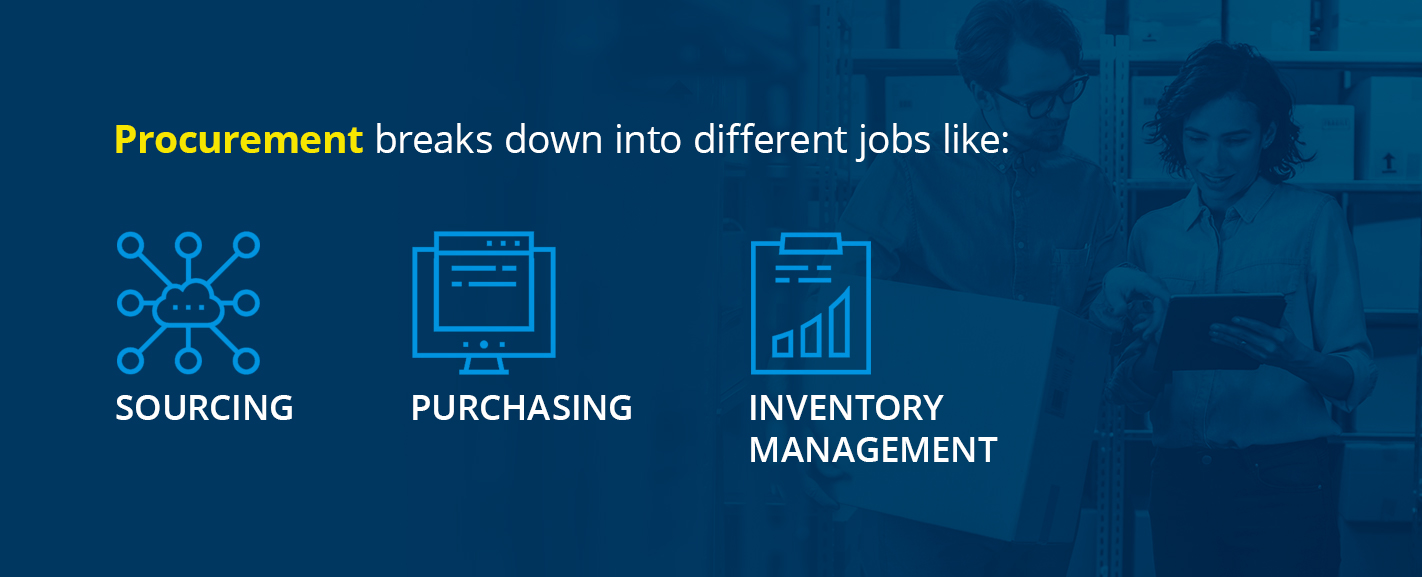 When organizations treat procurement as an overarching process, it lends well to strategic sourcing. Many see procurement as the long-term planning and sourcing and the process of executing on the plan. Sourcing is indeed a crucial part of procurement. Before you can receive supplies, you must have suppliers who have been scrutinized and align with your needs.
Procurement goes beyond this step to handle ordering supplies and managing the process. It involves placing orders with suppliers, confirming orders, paying and following up to ensure the delivery arrives on time. Procurers keep inventory levels above a certain threshold without racking up considerable storage costs. Procurement breaks down into different jobs like sourcing, purchasing and inventory management. Anything aiding a company in acquiring goods and services for an organization is part of procurement.
Managing this process under one umbrella allows an organization to operate more strategically over the long term. It creates opportunities for organizational growth by encouraging advanced planning and continuous improvement. It also allows each step to work in harmony with one another and with other departments within the organization.

Procurement involves many steps. Effectively managing procurement requires dedicated time and resources to each of those steps. Here's what the process will look like, from start to finish:
Need recognition: Whether you need a new product altogether or to replenish a regularly used item, the procurement process engages when a new need arises. This step involves analyzing the requirements to see what quantities and specifications are needed. It also involves checking availability with suppliers.
Purchase requisition: Before items can be acquired, a procurement manager will create a request and send it to the purchasing or finance department. A form or electronic document lays out what will be ordered and why.
Purchase request review: The procurement and finance team will review the requisition and either reject or accept it. If approved by the finance team, a purchase requisition becomes a purchase order. If rejected, the requester will receive justification and may have the opportunity to adjust the request.
Budget approval: In corporate settings, an approved purchase order will go to an accountant or accounting department for budget approval. Smaller businesses may incorporate this step into the purchase request review.
Quote request: With the purchase order approved, the procurement team can submit RFQs to their vendors. Sourcing may get involved here with the supplier relations managers or to help identify new suppliers.
Contract negotiation: After selecting a vendor, procurement begins negotiating and drawing up the contract. In some cases, they may forward a purchase order to their preferred supplier. If the vendor accepts the purchase order, it becomes legally binding and can take the place of a formal contract.
Delivery of goods: The vendor will provide the products within the allotted time. The items will then be inspected for quality to ensure all items meet the requirements.
Three-way matching: To ensure the delivery is accurate, the purchasing team will examine three documents — the packing slip, the vendor invoice and the original purchase order. The quantities and amounts should be the same on each record. Purchasing can then highlight and address any discrepancies.
Invoice payment: After verifying all documentation, purchasing will pay the invoice. Different organizational policies may govern how invoices get paid.
Record keeping: For bookkeeping and auditing purposes, all paid invoices and documentation will be filed in a centralized platform.
While sourcing plays one role in this process, purchasing plays another. What is the difference between purchasing and procurement? Purchasing usually involves the steps related to managing the transaction itself. A purchasing manager's function might include creating the purchase order, receiving goods, three-way matching, paying suppliers and filing invoices.
Purchasing, sourcing and procurement might all be interchangeable terms and activities at some companies. Small businesses, which don't have extensive procurement departments, may have a single job title encompassing all these activities. In general, companies see procurement more along the lines of long-term strategy and high-level planning. Meanwhile, purchasing and sourcing correspond with day-to-day tasks.
The best procurement processes follow these tenets:
Use procurement software: So many of the steps in the acquisition process can be simplified through automation. Procurement software reduces paperwork, human error and your workload.
Achieve spend visibility: When focusing on the total lifetime cost and using other cost-saving strategies, you need transparency in spending. Proper documentation, better contracts and frequent audits can all help with this. Collecting and analyzing data is crucial.
Improve supplier engagement: Stronger relationships have better payment terms and reduced risk. Create mutually beneficial arrangements, treat suppliers as partners, monitor their performance and enable collaboration to engage your suppliers.
Optimize inventory control: Storage costs can sit between 18%-75% of the original value of your stock. Keeping a lean inventory makes more financial sense. So long as you can meet demand through proper planning, procurement departments like yours should aim to keep safety stock levels low and move current inventory quickly.
Manage the contract life cycle: Streamline contracts to include consistent language across vendors. Keep them stored in one place. Track contract milestones, renewals and renegotiations to ensure you and your suppliers are on top of deadlines.
Every procurement process will work a little differently. Yours needs to fit into your organization's other operations and align with your corporate mission. The size of your business and procurement team will affect what you can implement. Likewise, your budget will determine how proactive you can be with lifetime cost and supplier relationship management. Some risk management practices, such as helping a critical supplier through financial hardship, might be a standard procedure or out of the question, depending on your budget.
You'll need a detailed analysis to determine your organization's needs and what it can afford to execute. A sourcing and procurement audit can help you select the best strategy. It includes an examination of your organization to find room for improvement and whether your current process aligns with its business goals. The internal audit will also provide benchmarking for current performance indicators, resources used and cost.
Dryden Group conducts audits to find the root cause of challenges in your procurement process. Our trusted, knowledgeable specialists can help you understand your indirect spend management and identify the best cost model for your organization. From there, we can help you set new objectives for your procurement strategy and develop new procedures to match.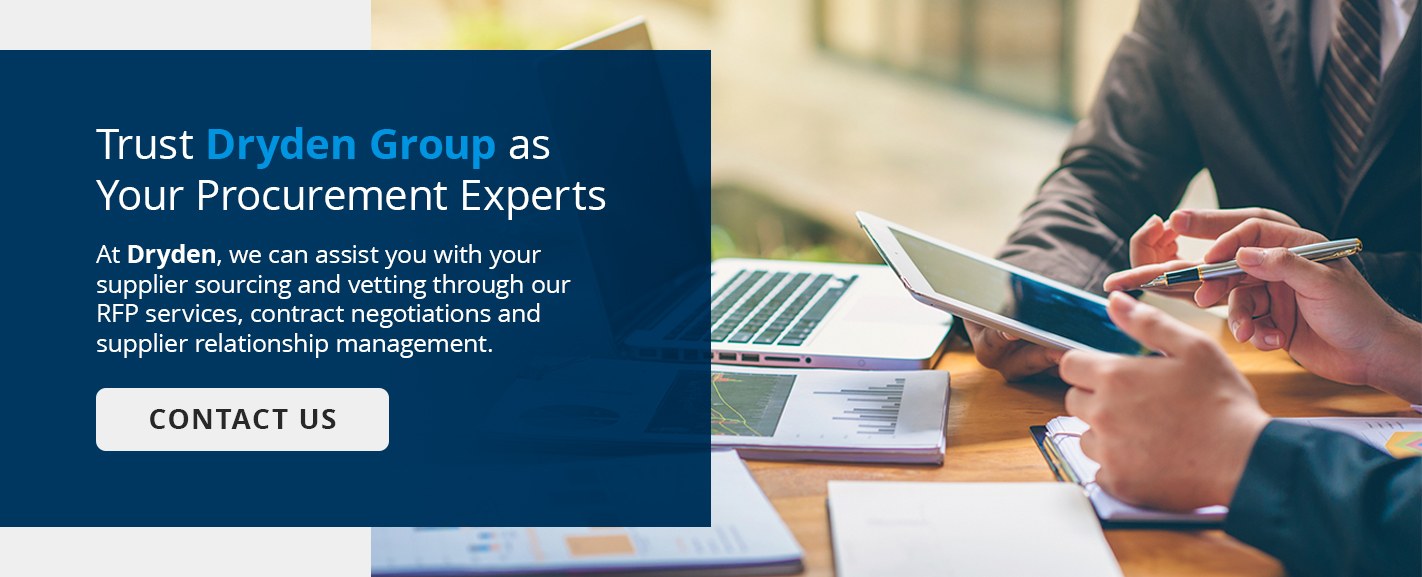 Both sourcing and procurement are essential activities for any business. Your products, services and ideas are the keys to your success, and acquisition provides the resources to feed your innovation. At Dryden, we can assist you with your supplier sourcing and vetting through our RFP services, contract negotiations and supplier relationship management. We can also assist you with your procurement needs by streamlining your end-to-end process through our procurement consulting.
Learn more about our complete range of procurement services, and reach out to us today about your needs.