Procurement Benefits from AT&T's Acquisition of Time Warner
Last updated: December 19, 2018
In October 2016, telecommunications company AT&T announced plans to purchase Time Warner, Inc., a company that owns Warner Bros., as well as cable channels such as CNN and HBO. AT&T announced it planned on acquiring Time Warner, Inc. for $85.4 billion, paying around $107.50 per share of the company — half in stocks and half in cash. When the deal was finalized, owners of Time Warner stock received 1.437 shares of AT&T common stock and $53.75 in cash per share. AT&T issued 1,185 million shares and spent $42.5 billion in cash.
The merger offers several benefits for AT&T. For one thing, the company now has access to a broader variety of content to provide its network subscribers. The alliance also increases AT&T's ability to offer direct-to-consumer distribution through properties such as the Bloomberg Network and HBO NOW.
From a procurement perspective, the AT&T-Time Warner merger has several benefits, among which are:
Increase in synergies to $2.5 billion — $1.5 billion in annualized cost synergies by the end of the third year after close and $1 billion in annualized revenue synergies at the end of the third year
Ability to maintain a solid balance sheet
Strengthened dividend coverage
Earnings before interest, tax, depreciation and amortization adjusted to 2.9 times greater at the close of the merger
A goal to return to historical levels of debt by the end of the fourth year
The union of AT&T and Time Warner, Inc. can help both companies save money by reducing the overall cost of ownership. The companies combined will eventually make up four businesses:
Communications
Media
Advertising and analytics
International
Although each will operate independently, the four combined companies will have impressive bargaining power when it comes to negotiating contracts for products and services. Let's take a closer look at how the merger of AT&T and Time Warner will benefit the newly united companies from a procurement point of view.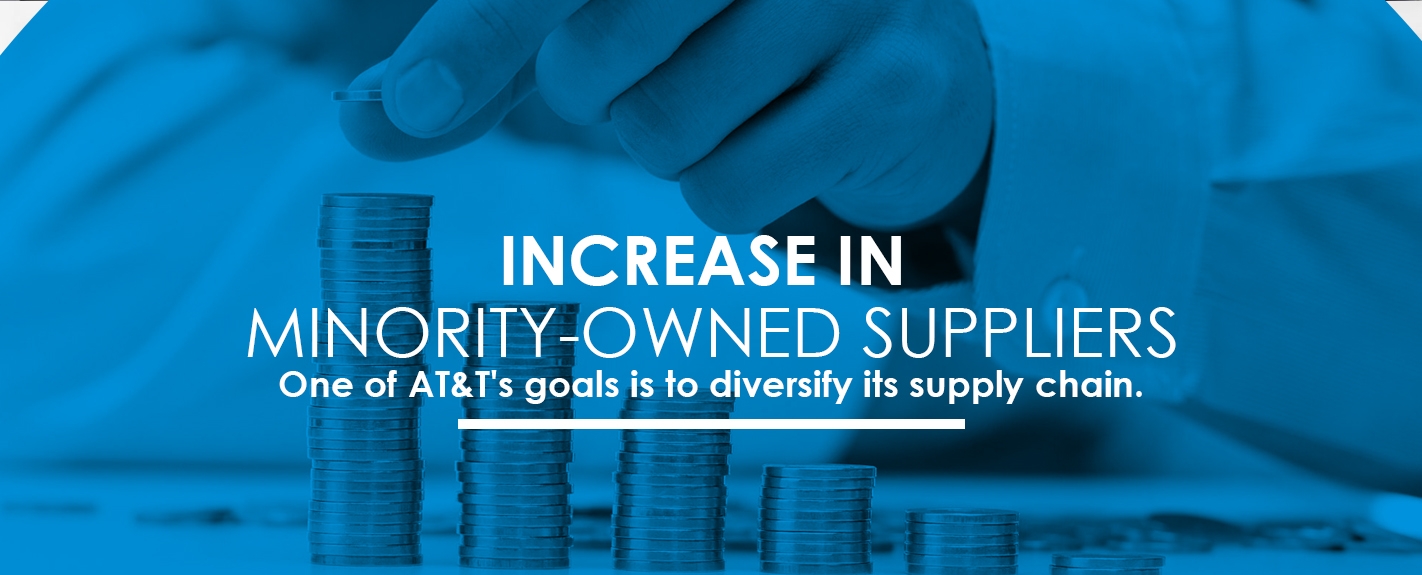 One of AT&T's goals is to diversify its supply chain. Increasing diversity and working with minority-owned companies has been one of AT&T's missions since 1968. The company spent $14.4 billion with certified diverse suppliers in 2017. Its overall goal is to have nearly 22 percent of its total spending be with diverse suppliers. That number breaks down as follows:
15 percent minority-owned businesses
5 percent women-owned businesses
1.5 percent service-disabled veteran-owned businesses
A commitment to working with minority suppliers goes beyond good press for AT&T. It also has several benefits for the company at the procurement level. For one thing, working with a broader, more diverse range of suppliers makes a company less likely to depend on a single source. If one supplier goes through a rough patch or has to increase prices, AT&T can reach out to another vendor to get a better deal on certain products or services.
Maintaining a diverse network of suppliers also allows a company to introduce new products to the market quickly. AT&T looks explicitly to work with diverse suppliers who can react to change quickly and who can work with businesses on the Fortune 500.
To help it reach its goals when it comes to developing and maintaining a more diverse supplier base, AT&T has several programs in place. The company's supplier diversity programs include:
The Prime Supplier Program — This program has been in place since 1989 and is the bedrock of AT&T's supplier diversity program. As part of the program, prime suppliers to AT&T have increased the use of diverse businesses in the company's supply chain through the use of tier 2 and subcontracting arrangements. Not only does the program increase diversity at AT&T, it also increases diversity at the suppliers the company works with. As part of the program, AT&T's suppliers outline a yearly plan that details how the business will improve their solutions and offerings by partnering with diverse companies. One part of the program is the Virtual Matchmaking on Demand tool, which connects prime suppliers to diverse companies that meet their requirements for subcontractors.
AT&T Business Growth Acceleration Program — AT&T designed this program to help minority-owned businesses succeed in the market. The program offers mentorship opportunities to a group of qualified business owners. The mentorship program helps business owners improve operations and improves their companies' chances of winning contracts from corporations.
AT&T Executive Scholarship Program — This program offers small to medium-sized diverse business owners access to training and education. Through the program, business leaders get invited to attend management training programs that help them improve their operations.
Technical assistance and capacity-building programs — A global supplier diversity team from AT&T assists micro, small and medium-sized businesses. The program offers coaching and classes, as well as connections to community leaders and a team of experts from AT&T, plus links to prime suppliers and other AT&T supplier diversity programs.
Now that the merger with Time Warner, Inc. is complete, it is very likely AT&T will continue to focus on and expand Time Warner's supplier diversity programs.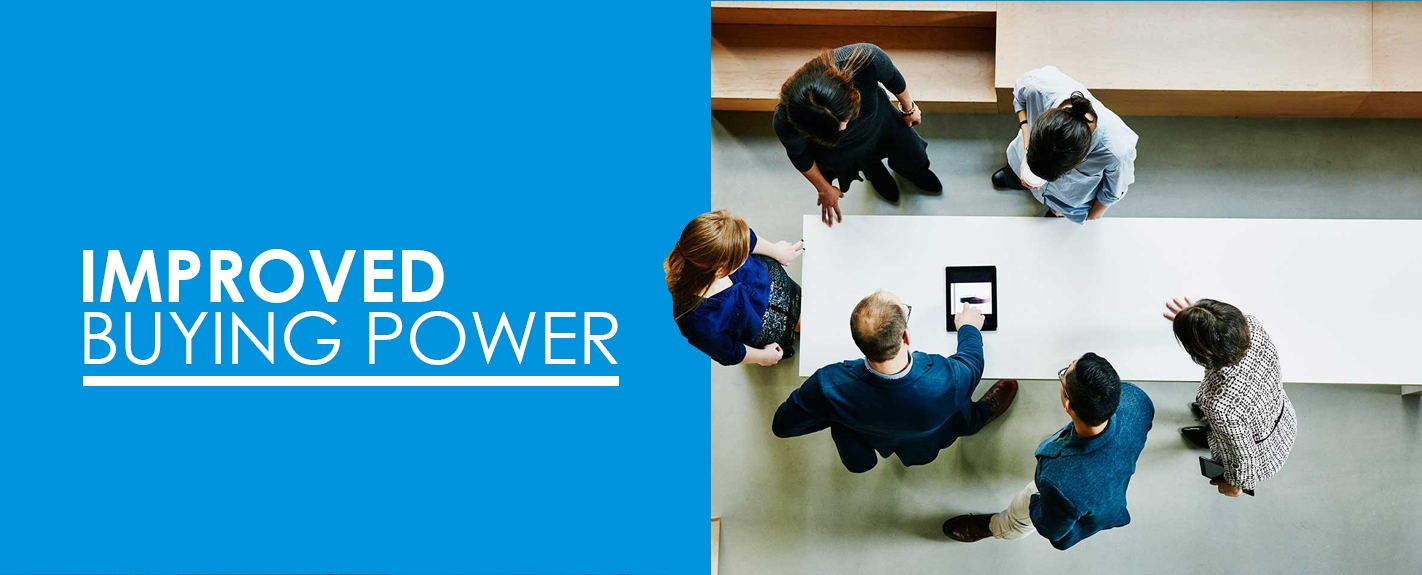 The merger of AT&T and Time Warner, Inc. has the potential to enhance both companies' buying power, allowing each to negotiate better deals with their suppliers. Although a merger can improve a company's buying power, sometimes leading to savings of up to 15 percent, some planning is necessary to ensure the newly consolidated company can take the best advantage of its bargaining and buying power.
One way to improve the buying power of a recently merged company is to set up a "clean room" before the merger takes place. A clean room is a space where individuals from each company can review and compare information, such as suppliers used, contracts negotiated, prices paid and other usually confidential information. Setting up a clean room also usually involves working with a "clean team," such as a group of procurement consultants. The consultants can help the merging companies identify existing synergies, as well as areas where there could be synergy. The goal of the clean team is usually to identify areas where the two connected companies can save money after the merger.
Synergy can exist in several areas, and the two merging companies can achieve it through several steps, or "levers."
The first step toward symbiosis and, therefore, improved buying power is to conduct a spend analysis of the company's supply chain, then look for a way to harmonize pricing.
For example, it is likely AT&T and Time Warner, Inc. both need to purchase office supplies. Pre-merger, the two companies might have each obtained their supplies from separate sources. But after the merger, if the companies decide to buy supplies from the same supplier, they might be able to get a lower price on what they need because they are purchasing items in a higher volume.
The next steps in achieving synergy typically involve consolidating suppliers and renegotiating contracts — more on that below. If suppliers overlap, the merged companies might decide to phase out or add more suppliers, ultimately continuing to work with the vendor who offers the best value and the best price. There might be instances where the supplier one company uses is the one that wins, or perhaps none of the suppliers either company uses meets the needs of the combined business, and a new supplier will need to fill in the gaps.
The final step is to integrate the changes into a company's procurement plan and strategy, allowing it to take the best advantage of its increased buying power.
Another aspect of the AT&T and Time Warner merger worth looking at from a procurement perspective is contract negotiation. Just as the merger potentially gave the companies more buying power when it comes to interacting with and choosing their suppliers, it's also likely the consolidation provided both companies with a leg up when it comes to contract negotiation.
It's highly likely the two united companies will be taking a long, hard look at individual contracts, deciding which ones to renew, which to renegotiate and which to annul. The contract renegotiation process can give the two connected companies the upper hand, requiring their suppliers to stay on their toes and making it more likely they will need to offer better terms to win over or win back the businesses.
Before the contract renegotiation process, it's reasonable to assume representatives from AT&T and Time Warner, Inc. will sit down with a third party, such as a procurement consultant, and assess the total cost of ownership. Understanding the total cost of ownership will give the merged company a bit of leverage when they head into contract negotiations.
Usually, the total cost of ownership includes everything in both the direct and indirect spend categories. It also typically involves creating or establishing benchmarks, which give a company an idea of what it should be spending in each area. If a company is spending more than the benchmark, having that knowledge gives them the power to approach a supplier and request a fairer price.
Depending on the wording of the contracts, the merger between AT&T and Time Warner, Inc. might have made some of them null and void. In those cases, the two joined companies will need to work with a supplier to draw up a new contract that serves the best interests of all parties involved. It's also possible the merger made certain agreements — either between AT&T and a supplier or between Time Warner and a supplier — no longer advantageous.
With a merger, the contract negotiation process can take place at multiple points along the way. Some companies will begin the process before the ink is dry on the merger and before the deal is final. During this phase, each company will have a chance to conduct due diligence on the other's contracts with suppliers. The due diligence allows either company to avoid getting stuck in an unfavorable position or under the thumb of a supplier once the merger is complete.
After the merger is final, companies can continue to assess existing contracts. There might not be the opportunity for either AT&T or Time Warner to back out now, but both still have the option of working with existing suppliers to renegotiate the terms of the contract.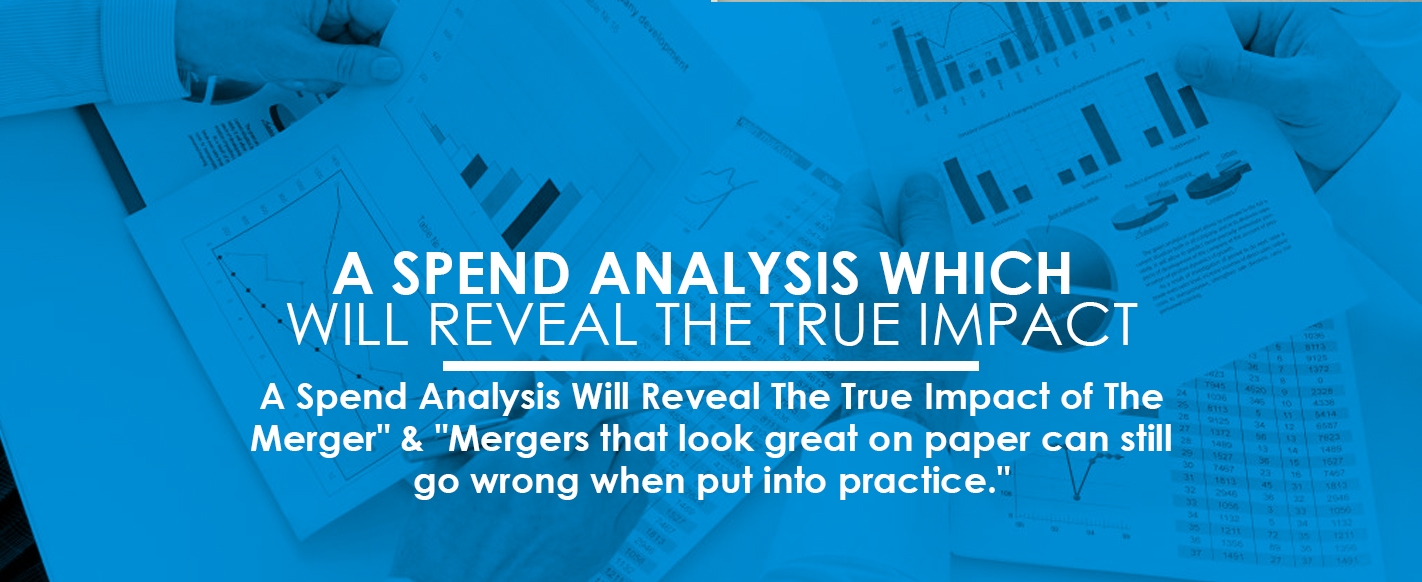 AT&T might envision its merger with Time Warner, Inc. as the perfect pairing, as it allows the two companies to deliver premium content over a robust network. But mergers that look great on paper can still go wrong when put into practice.
One example of a merger gone wrong is the union of the Pennsylvania and New York Central Railroads in the late 1960s. Just two years after finalizing their transaction, the unified company filed for bankruptcy. The merger took place in an attempt by both companies to get ahead of what seemed to be a dying industry. In the end, the rise of the car for personal transportation and the semi-truck for transporting goods seemed to be what got the better of the deal. Another factor that led to the company's demise was extreme cost-cutting measures, which led to a decline in the quality of service offered to customers.
Another example of a merger gone wrong took place between Time Warner and AOL. Similar to the way AT&T is trying to take advantage of the confluence of media and telecommunications, AOL wanted to buy Time Warner in the late 1990s to take advantage of the connection between the Internet and the media. Neither company could have predicted the bursting of the dot-com bubble just a few months after the merger was complete. To make matters worse, the executives at AOL realized they didn't have the know-how when it came to running a media company. Although neither declared bankruptcy, by 2003, Time Warner had quietly stopped referring to itself as AOL-Time Warner.
What can AT&T and Time Warner do to protect themselves from becoming another failed merger? A future spend analysis can help. A spend analysis allows a company to see where its money is going and helps a business identify opportunities to save money. In the end, a spend analysis helps a company improve its bottom line, improving its financial health for years to come. A spend analysis can also help a company avoid making costly mistakes to begin with.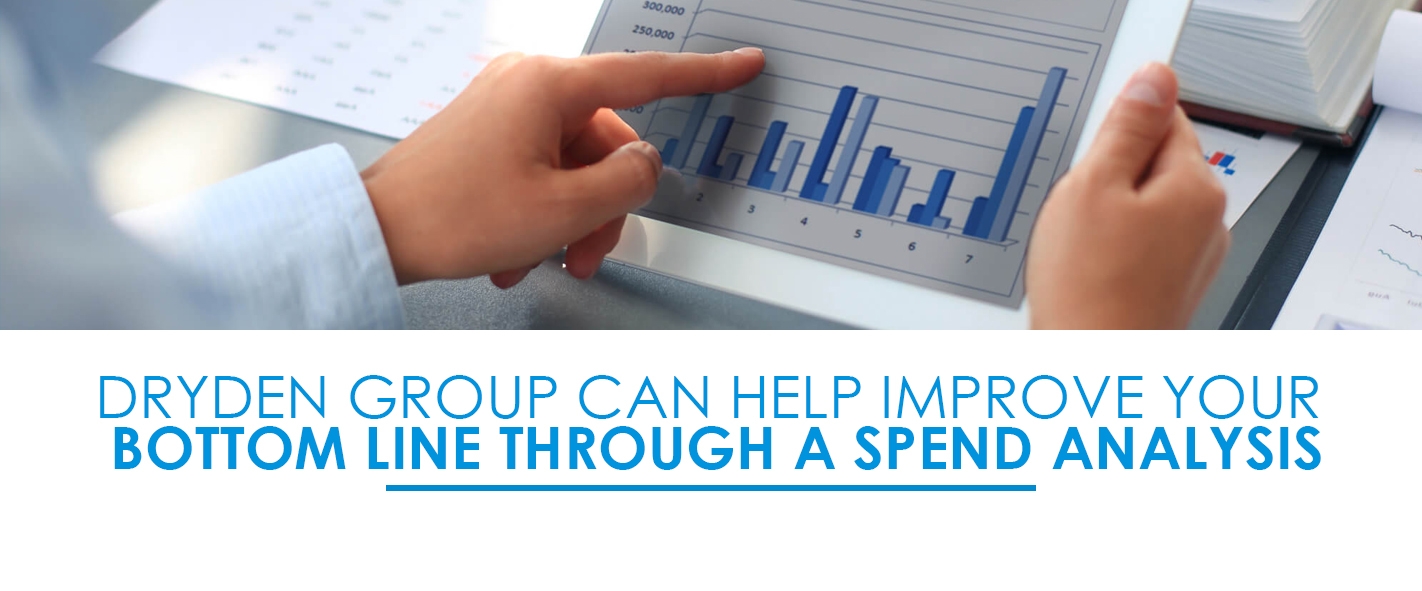 At this point, only time will tell whether the AT&T and Time Warner merger leads to a stronger, more cost-effective company. The two companies seem to have done what they can to make sure their merger has gone smoothly.
Whether your business is considering merging with another company, or is looking for ways to improve your bottom line, Dryden Group can help. Our spend analysis assessment can help you reduce inefficiencies and achieve short and long-term cost reduction goals. Contact us today to learn more and for a free quote.