How the Trade War With China Affects US Businesses
Last updated: November 7, 2019
As the current U.S. trade war with China moves closer to the three-year mark, its effects pose significant issues for American businesses. While not everyone views the Chinese trade war as a negative, the biggest issue that American businesses face is uncertainty Not only do American Businesses have uncertainty about their production lines, uncertainty about the effects of tariffs on their customers, and uncertainty about increasing the cost to their customers, but they also have uncertainty about how this trade war will affect supply lines in the long-term.
In October 2019, American and Chinese trade negotiators resumed talks in Washington. While no one is expecting an immediate breakthrough, observers hope that President Trump's need to strengthen the U.S. economy and China's need to improve its business climate will lead to some kind of agreement.
Until this happens, however, U.S. businesses remain in limbo about what the future holds.
Here's a brief synopsis of how events unfolded over the past 30 months.
President Trump issues two executive orders. The first one is aimed at tariff enforcement in anti-dumping and anti-subsidy trade cases, while the second one orders a review of American trade deficits and their associated causes.
President Trump meets with Chinese President Xi Jinping. The two leaders agree to the start of a 100-day plan of trade talks between the two nations.
The 100-day plan to reduce the U.S. trade deficit fails to materialize as hoped.
President Trump launches a Section 301 probe into alleged intellectual property theft by China. This is seen as the first direct assault on China's trade position. Section 301 can be found under a 1974 trade law that dictates how the U.S. enforces its rights under any trade agreement.
In a media interview in early January, Trump threatens China with a "big fine" over alleged theft of intellectual property. At the time of the statement, the details of the fine remain unspecified.
Over the next few months, Trump begins to implement tariffs on China. However, he preempts those tariffs with tariffs on other countries whose products are manufactured in China, such as solar panels and washing machines.
In March, Trump announces a 10% tariff on aluminum and a 25% tariff on steel imports. China understands it is the target of the steel tariffs and announces a 25% tariff on over 100 U.S. goods in April.
This exchange leads to continuing rounds of each country imposing tariffs on the other. By the end of 2018, the U.S. has placed tariffs ranging from 10% to 25% on $200 billion of Chinese goods. Counter to those tariffs, China has imposed similar tariffs on over $100 billion of U.S. goods.
In early December, the two countries agree to a 90-day halt on any new tariffs. Trump agrees to table new tariffs on over $200 billion of Chinese goods until March 2019, and China agrees to buy substantial amounts of U.S. agricultural goods.
At first, trade talks look promising. In February, Trump delays the March 1 deadline to raise 10% tariffs to 25%. Talks stall again, however, and in May, Trump announces the tariffs would move to 25% on $200 billion of Chinese goods on May 10.
In early June, the Trump and President Xi talk by phone and agree to restart trade talks when they meet at the G-20 talks in late June in Osaka, Japan. Once again, they agree on measures that show promise of negotiation, yet in August,Trump announces an additional 10% tariff on more than $300 billion of Chinese goods.
China responds by weakening its currency and halting purchases of American agricultural goods.The U.S. government then accuses China of manipulating its currency, which China denies.
In October 2019, the two sides resume negotiations again. At this point, the U.S. had planned to increase tariffs on $250 billion worth of Chinese goods from 25% to 30%.
These tariffs affect and will continue to affect many industries, but several industries in particular will incur the greatest impact.

The latest round of tariff increases could significantly impact retailers heading into the 2019 holiday season. China manufactures more than 40% of all clothes, 70% of the shoes and over 85% of toys sold in the United States. NPR reported in August that retailers warned prices on these goods would be raised if a new round of tariffs was placed on Chinese goods.
Meanwhile, smartwatch, headphone, and computer retailers are also predicting price increases. Some retailers tried to outrun the tariff increases by increasing purchases from China in late 2018 and early 2019, before the latest round of tariff increases. Although this strategy may have yielded positive short term results, the continuing uncertainty of trade talks between China and the U.S. may signal more difficulty with advanced purchasing.
Smaller retailers also have been hit hard. While some larger companies accelerated their purchases from China to avoid the tariffs, smaller companies with tighter budgets were unable to avoid the increased prices of Chinese products.
American farmers have been strongly impacted by the Chinese decision to stop imports of U.S. agricultural products, a decision executed as a retaliation for the United States' tariff increases on Chinese goods.
A prime example of how these tariffs hurt agricultural businesses was John Deere and Company announced that it would cut production in the second half of 2019 by 20%, including tractors made in Iowa and Illinois.
Global agricultural producers stand to gain from the detriment of these tariffs on American agricultural production. In areas once dominated by American businesses such as soybeans, countries such as Canada, Brazil, Mexico and Australia have taken up the slack and increased their importation of goods into China .

One of the industries most affected by the U.S.-China trade war is America's automobile industry. China steeply increased the tariff on U.S. automobiles from 15% to 40%, although China has since temporarily suspended the 25% increase as a goodwill gesture.
Meanwhile, companies like Rockwell Automation, diesel manufacturer Cummings and United Technology have begun to pass on price increases connected to tariffs in the second quarter.
Many U.S. companies like Apple or Dell have built entire supply chains in China. Component manufacturers have opened factories in China or outsourced their production there. The trade war has particularly devastated American technology companies.
Technology companies that rely on imported resistors, printed circuit boards (PCBs) and capacitors may need to start transferring these costs to their customers in late 2019. While some companies have looked into relocating their operations to countries like Vietnam or Malaysia, in some cases there are no alternative options. For example, 100% of the modems produced by the world's largest modem companies are made in China.
Industry trade groups have been strongly advocating for China and the U.S. to reach an agreement, especially in areas like market access and intellectual property.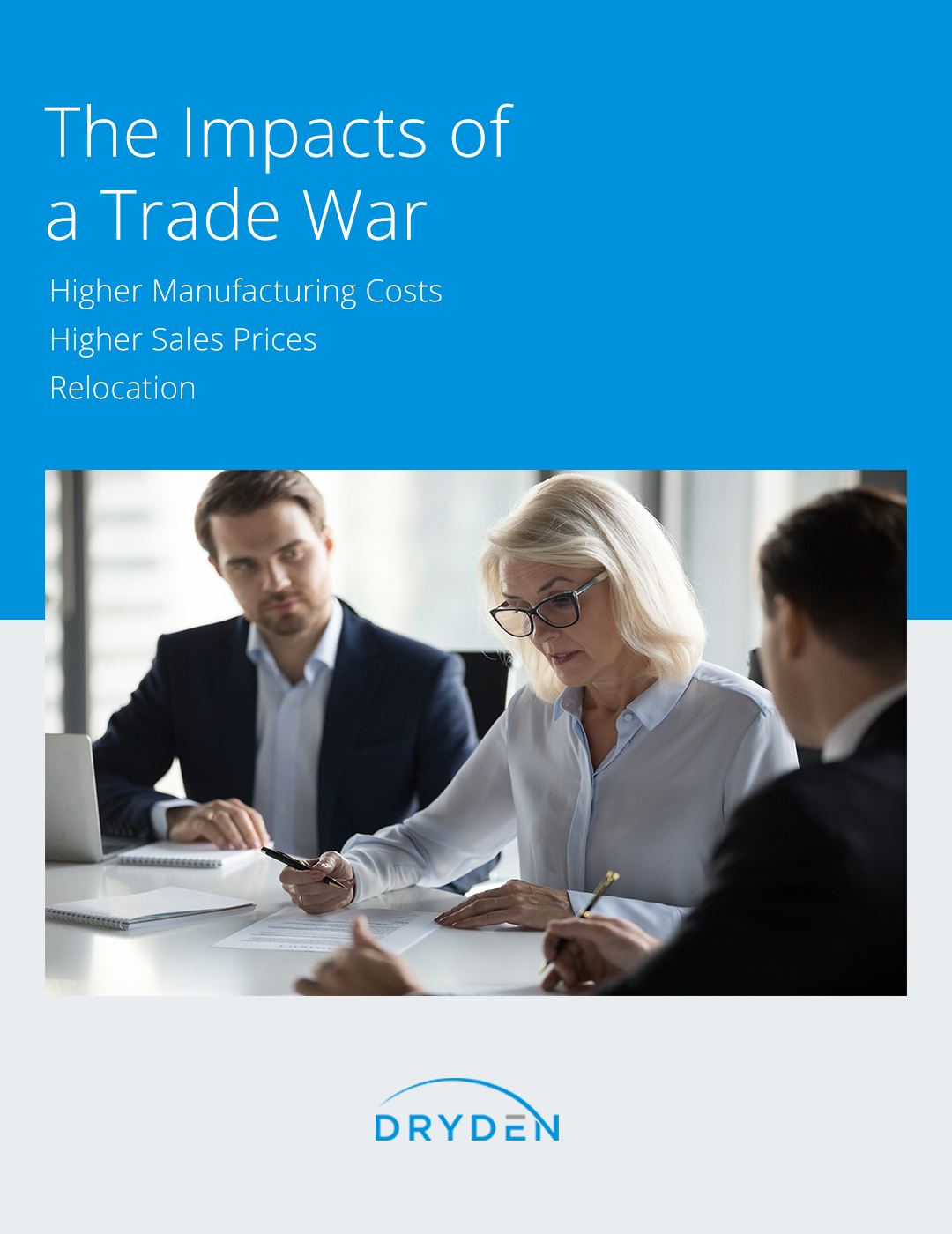 The U.S.-China trade war affects American companies in several ways:
There is little doubt that if the trade war between the U.S. and China continues, it will result in higher manufacturing costs, even more than some companies are feeling right now. This is especially true for industries that both partially and totally rely on steel and aluminum. Many manufacturers will have to decide either to eat the increased costs or pass them on to consumers, which could put jobs at over a thousand different American companies at risk.
In early September, the Institute for Supply Management's manufacturing index fell from 59.2 to 49.1, signaling contraction of the manufacturing sector. As a result of this decline, one leading financial economist stated that the trade war had "blown a great big hole in manufacturers' confidence."
Although it is difficult to exactly quantify the price increase caused by the U.S.-China trade war, one thing is for certain — it is beginning to have an impact on the American consumer. According to a report by JP Morgan Chase, the average American will pay an additional $600 a year based on the tariffs already in place. If the new 10% tariff on an additional $300 billion worth of Chinese goods goes into effect before the end of 2019, that figure could increase to as much as $1,000 a year.
The higher sale prices will affect almost everything Americans purchase, including:
Cars
Clothes and shoes
Computers
Lawnmowers
Televisions
Toys
Washers and dryers
As a result of the trade war, many U.S. companies are considering relocating their operations in China to nearby countries such as Indonesia, Vietnam, India or Malaysia. Only about 6% of U.S. companies pondering relocation are considering moving back to the United States.
However, relocating sounds easier than it is. Even if they wish to move to nearby countries, companies that have spent years developing supply chains in China might need five to seven years from beginning to end to effectively relocate. For some small businesses, switching away from Chinese suppliers is impossible. This is because many small companies cannot afford to absorb the costs of switching to another country considering the investments that they have made in China.
One of the most significant effects of the trade war is an increase in the cost of acquiring materials and products from China. These increased costs force companies in the United States to decide whether to absorb the new costs into their bottom lines or to pass them on to consumers — the latter of which frequently leads to fewer sales as price thresholds increase.
The U.S.-China trade war is a double edged sword, however, in the way that it affects the procurement position of American companies. Some manufacturers believe that the trade war will make the global supply chain more agile for American companies. The conflict is forcing them to look for new solutions and inspire out-of-the-box critical decision making about strategic sourcing .
On the other hand, the damage done to the procurement process by the tariffs and the trade war could be irreversible. Long-time partnerships have ended, many procurement costs have increased, and companies are in the process of relocating their manufacturing operations.
The uncertainty created by the trade war will affect the effectiveness and profitability of international procurement.
In the end, the result may be that neither China nor the United States will emerge the victor in this trade war struggle. Instead, countries in Southeast Asia will be the ones that benefit.

Uncertainty can be crippling to a business, regardless of the industry. As we have seen from the notes above, the biggest danger that faces many American businesses as a result of the U.S.-China trade war is the uncertainty that's been created by the exchanges of crippling tariffs by the two countries.
At the Dryden Group, we have expertise from commodity managers and vendors relevant to the particular spend area. Our revolutionary ISOP (Indirect spend Optimization Program) coupled with our specific category and supplier expertise provides guaranteed results that only Dryden can deliver.
We specialize in optimizing your indirect spend and maximizing your savings on supplier agreements. We are trusted, accurate, established and knowledgeable. Please take a look at the savings we have delivered for a multinational company.
If you would like to know more about how the Dryden Group can help your business optimize its indirect procurement process, call us at 610-644-0990 or contact us today. You can also email us at sales@drydengroup.com. One of our strategic sourcing experts will set up an appointment to address any and all questions or concerns.