8 Benefits of Spend Analysis
Last updated: August 5, 2021
One of the best ways for your business to manage and control costs is to know where and how you're spending. Spend analysis in procurement allows you to evaluate your company's current purchasing patterns, assess your relationships with vendors and develop a strategy for cost reduction. Learn more about the benefits of spend analysis and how your business can complete a spend analysis assessment.
Spend analysis has three primary goals: improved supplier relationships, better efficiency and reduced costs. When your business performs a procurement analysis, it takes a proactive approach to its spending.
During a spend analysis assessment, your procurement teams are likely to:
Collect data
Classify data
Clean up data
Analyze the data
Examining spend data shines a light on how your company spends while also illuminating opportunities for savings and improvement. The analysis might turn up vendor issues such as non-compliance and allow you to correct them. Along with showing you how your company spends its money today, a spend analysis can help you create a strategy for the future so you can continue to save money or lower your overall expenses.
When conducting a spend analysis, your company will examine the five W's and one H:
Who: Whom is your company purchasing from, and who is doing the purchasing?
What: What is your company buying? Are your suppliers and vendors delivering what they promised?
When: When is your company making purchases or placing orders?
Where: Where are the items or services used?
Why: Why are you buying particular items or working with a specific vendor?
How: How much are you buying? How much are you spending? How does this year's spend analysis compared to previous years'?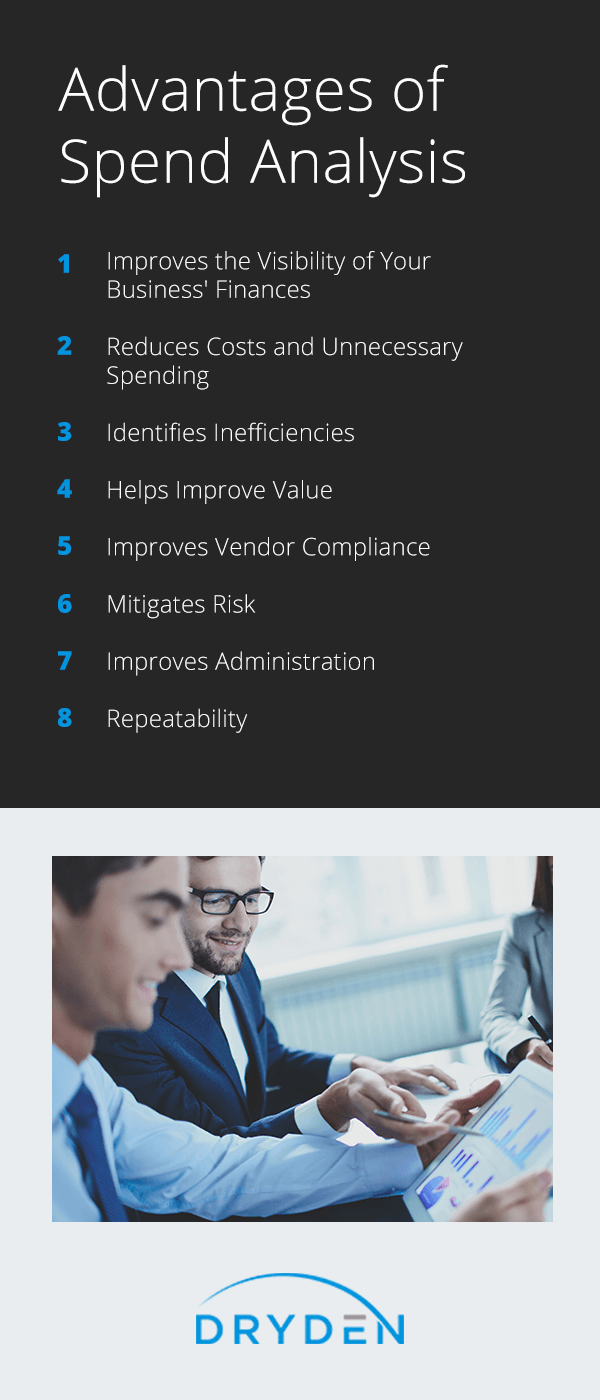 Conducting a spend analysis benefits your business in many ways. It can show you where there is room for improvement when reducing your indirect costs. It can also show you which vendors and suppliers are most valuable to your company. A spend analysis has the following benefits.
A spend analysis enhances transparency by shining a light on how much you're spending on supplies, services and materials. Depending on your company's size, there could be a fair amount of procurement duplication. For example, one department may be spending on housekeeping, and a different department might have a separate contract with a cleaning service. Since the departments might not communicate, they may not realize they are paying for the same service twice. Combining the contracts could reduce the cleaning expense.
Perhaps your company has contracts you meant to cancel and never did, meaning you might be spending money on services you don't use or supplies you don't need.
In addition to identifying duplication, improving the visibility of your business' finances gives you the chance to establish a sorting and classification system for spending.
A significant benefit of conducting a spend analysis is that it saves your company a considerable amount of money. Businesses with $5 billion in revenue that don't have a spend analysis program in place spend around $19.5 million on procurement. Companies with similar income and a spend analysis program spend less than half that, $8.5 million, on the same activities.
A spend analysis helps your business save money by highlighting redundancies and opportunities for saving. For example, if separate departments use different cleaning companies, your company could stand to save money by choosing the lower-priced cleaning service and have it serve both departments.
Perhaps your company is ordering supplies at a faster rate than it uses them, leading to waste or excessive overstock. Following a spend analysis, you'll have a better sense of ordering patterns and how those patterns correspond to the rate at which your company uses the products or supplies you order.

Your business' spend analysis can illuminate inefficiencies in your procurement process. For example, you might wait until the very last minute to reorder certain supplies, causing employees to scramble and increasing the likelihood that you'll run out of an item before the new shipment arrives. The analysis will show you how frequently you go through specific supplies, allowing you to set up an automatic reordering system.
It also helps you identify inventory issues, such as overlapping products or inventory that sits on the shelf for months. For instance, in the middle of summer, your company will probably have less need for cold-weather supplies and can usually ease up on orders until the cooler weather returns.
Your company might also switch vendors, ordering supplies from Vendor A during one month and from Vendor B the next. Jumping from one vendor to the next can mean you're missing out on volume discounts. Using multiple vendors when one would suffice also increases the amount of paperwork. Identifying the vendor that works best for your business and sticking with them can streamline your procurement process.
Is your company getting the most value from its relationships with vendors? Spend analysis can help you tell. During a spend analysis, you can look at the following to see which vendors offer the best value.
Costs: Examine how much the vendor charges for its services or supplies. Can you find a less expensive option? If one vendor is significantly costlier than another, what do you get for the higher price point?
Lead time: Also, look at the lead time your suppliers and vendors need. If you place an order or call to schedule an appointment, do you have to wait weeks or months to get what you purchased, or does the vendor respond much more quickly?
Quality of supplies or services: Cost is essential, and so is the condition of the items purchased. Evaluate what you get from each vendor. Are you and your team members satisfied, or do you find you frequently need to send back damaged items or request a re-do of a specific service?
Ideally, the vendors you work with will help your company fulfill its needs. One way to do so is by complying with your company's expectations and requirements.
When you sign a contract with a vendor, its terms should outline what you expect and what the vendor needs to do to uphold their end of the agreement. For example, the contract might state that your company will place a specific number of orders each year and that the vendor will ship all orders within a given time. It might also outline the payment terms, such as having your company pay invoices 30 days after receipt.
If a spend analysis reveals that a vendor isn't holding up their end of the contract, your company can take action. You can gently remind the vendor of the terms and ask them to comply. You can also focus on working with suppliers and vendors that adhere to the agreements and shift your focus away from non-compliant vendors.
Conducting a spend analysis mitigates risk in two ways. First, when you evaluate your company's relationship with vendors, you can look at each vendor's overall performance and reputation. For example, your spend analysis could include information on a vendor's credit score, delivery record and complaint resolution. Using that information, you can determine which vendors are risky to continue working with. A vendor who often delivers late can cause delays for your business, while a vendor with a low credit score could be in danger of going out of business.
Procurement analysis also allows you to identify and reduce risk on your end. You can see what your employees are purchasing and where they are buying from to identify non-contracted or unapproved spending.

The benefits of a spend analysis can stretch beyond saving money and improving vendor relationships. Performing one can also help boost your company overall. A spend analysis can help you see if systems such as accounts receivable and payable software provide the best value or function. Maybe your software regularly crashes or freezes, delaying your invoicing or payments. After conducting a spend analysis, you can assess the need to improve the software and programs your company uses.
You can also make changes to your administrative team following the results of a spend analysis. You might realize too many people are performing the same roles, creating confusion and duplicate orders. A closer look can also identify gaps in your team that need filling.
Spend analysis isn't a one-and-done process. It's something your company can repeat, ideally annually. Going through the process again lets you see how your company is improving or where there might still be room to get better. Over time, you'll be able to maximize efficiency and cost reduction.
The spend analysis process is a multi-step procedure that you can conduct independently or with assistance from a consultant. When you work with a consultant, you get the benefit of having a third party evaluate your company's data. The consultant can offer insight that lets you maximize the benefits of spend analysis.
Typically, the steps in the process are as follows.
Gather data from every possible source: The first step is to collect spend data, which can come from multiple sources. Examples include purchase orders, invoices, your general ledger and information provided by suppliers or vendors. You'll also want to gather contracts.
Consolidate data into one location: Once you have all the data you need, you want to put it all in one place. You can use software to put the data in a consistent format. You can also do the process by hand, inputting data manually into a spreadsheet or database. Now's also an excellent time to sort through the data, removing duplicates or redundancies. You can also make sure you have the right amount of information with nothing omitted.
Categorize expenses by direct and indirect costs: After cleaning and consolidating the data, the next step is categorizing it. First, sort the data into direct and indirect spend categories, if necessary. From there, arrange it by type. For example, all software purchases can go into one category, while all office supply purchases can go into another. Correctly classifying and categorizing your data will make it easier for you to spot redundancies or inefficiencies.
Analyze the data: Once you've sorted the data, you can analyze it. Evaluate the data to see where or if your company is overspending. You can also look for unapproved or duplicate spending, such as identical software subscriptions or a purchase made from an unapproved vendor. During the analysis, you can also get a better idea of who your company purchases from and whether reality aligns with your expectations. For example, maybe people aren't ordering or working with your preferred vendors.
Implement new strategies: When the analysis is complete, you can take a step back and decide what to do next. You might choose to take a different approach to strategic sourcing, such as working with a single vendor rather than rotating through several that offer similar products or services. You may also opt to get stricter about purchase orders or limit who can buy what or who has access to company funds for expenses. You might also decide to approach your vendors and use the information you've gathered to negotiate better terms or to remind them of their existing contracts.
A spend analysis assessment can improve your company's bottom line, vendor relationships and employee efficiencies. For two decades, Dryden has been helping companies address indirect procurement concerns. Our consultants can guide you through strategic sourcing, benchmarking and spend analysis, with the goal of identifying areas for improvement. Contact us today to learn more about our process and how we can tailor our approach to meet your company's unique needs.