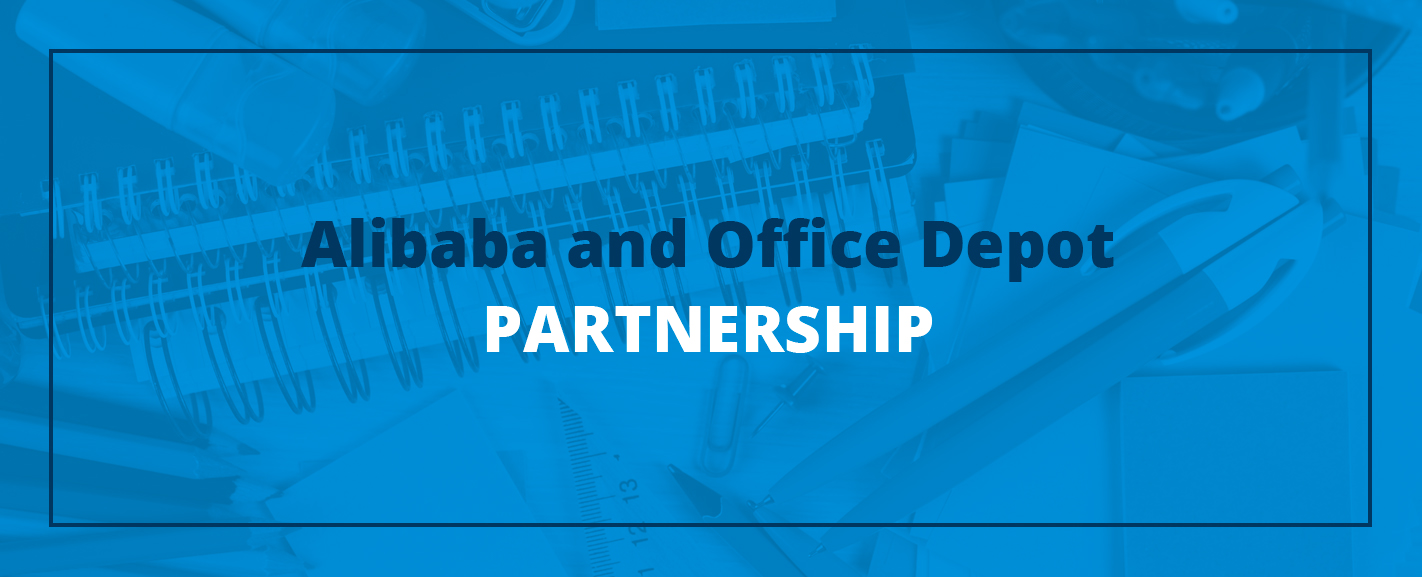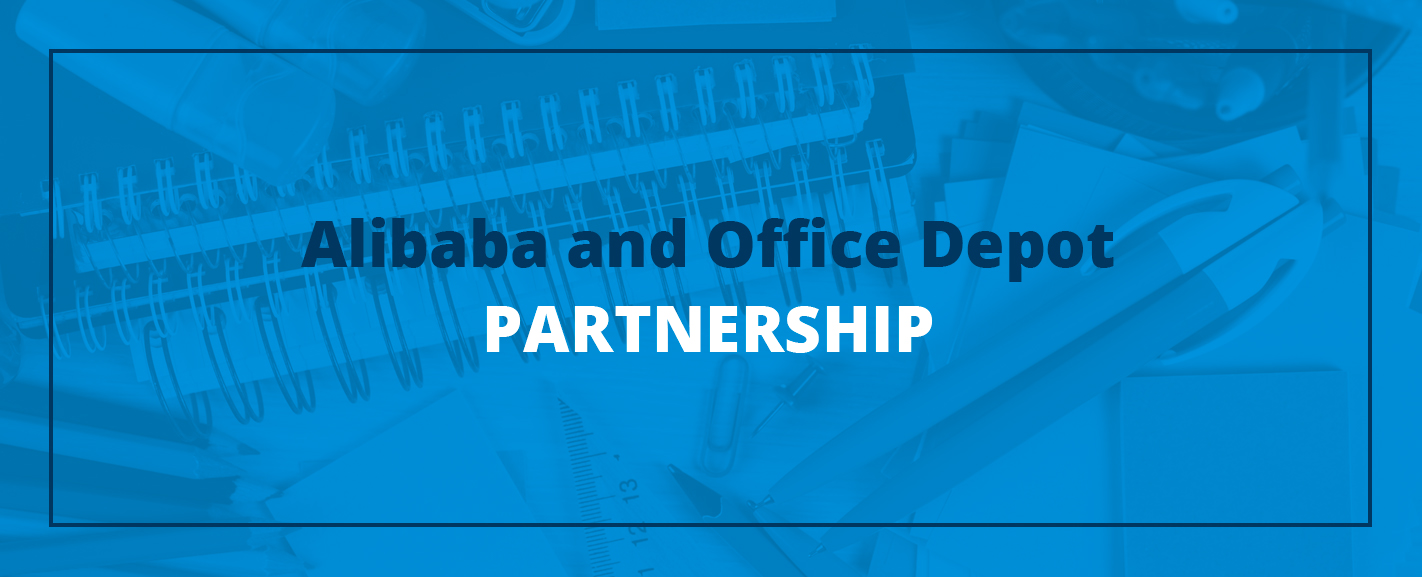 Alibaba and Office Depot Partnership
Last updated: September 12, 2019
In March 2019, Office Depot, the well-known American office supply retailer, and Alibaba, the Chinese e-commerce giant, announced a partnership. Their goal? Winning a bigger piece of the global B2B e-commerce marketplace, which the United States International Trade Commission recently estimated is worth $23.9 trillion a year.
The two companies hope to capitalize on each other's strengths — Office Depot's large presence in the United States and Alibaba's enormous network of suppliers available through its global B2B online platform — to move aggressively into the small to medium enterprise (SME) marketplace.
The two companies have launched an online platform, Office Depot on Alibaba, and plan to collaborate on customer support, fulfillment and distribution. American suppliers, meanwhile, will have access to the global network through the Alibaba.com portal.
Let's take a look at the history of these companies, why they're joining forces, and what this partnership could mean.
Alibaba.com is part of Alibaba Group Holding Limited, a Chinese company that specializes in e-commerce, technology, internet and retail. It is one of the largest e-commerce companies in the world as well as one of the world's largest retailers. It's also one of the world's top investment corporations and venture capital firms.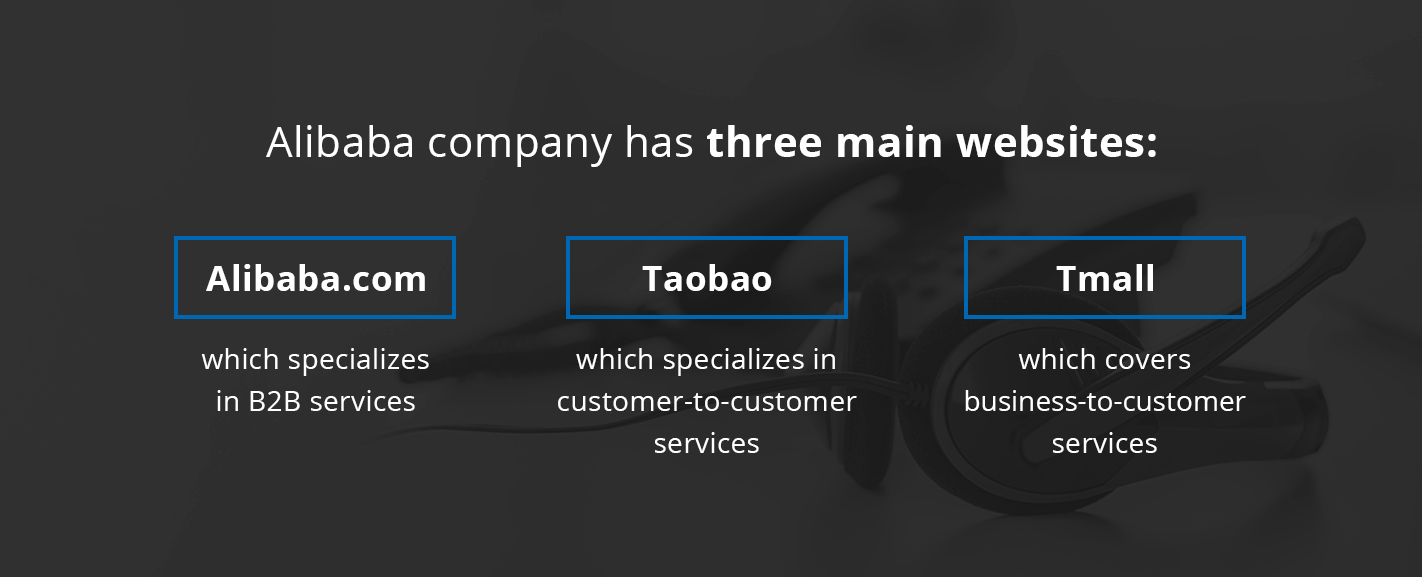 The company has three main websites:
Alibaba.com, which specializes in B2B services
Taobao, which specializes in customer-to-customer services
Tmall, which covers business-to-customer services
These three rank among the largest global marketplaces. Alibaba's revenues are similar to other global behemoths, including Walmart and Amazon.
Alibaba.com was started in 1999 by Jack Ma and 17 students and friends from his apartment in Hangzhou, China. Later that year, the company received $23 million in investment funds from Goldman Sachs ($3.3 million) and Softbank ($20 million). It hasn't looked back since.
Ma said he came up with the name Alibaba while he was sitting in a café in San Francisco. He was thinking of using Alibaba as the name and asked the waitress in the café and then people on the street what they knew about Alibaba. Almost everyone he spoke to knew that it was the name of the character from "The Thousand and One Nights" and that the phrase most associated with the name was "open sesame."
Ma took this as a positive sign that Alibaba would come to mean "open sesame" for medium- to small-sized businesses.
Office Depot was founded in 1986 in Delray, Florida and opened its first store in Fort Lauderdale. The company had an ambitious plan to expand across the United States, and by 1990 it had 173 stores opened in 27 states. Then, in 1991, Office Depot merged with The Office Club, Inc., which, at the time, made it the largest office products retailer on the continent.
The company continued to expand in Canada and the United States, including a 2013 merger with OfficeMax. Its different brands now include Grand & Toy. Currently, the company employs more than 38,000 people. Its network of 1,400 OfficeMax and Office Depot locations across America means that it can reach almost any business in the country with next-day delivery.
In the past two years, Office Depot has begun to focus more on services to SMEs rather than just sales of office supplies. In 2017, it purchased IT service supplier CompuCom Systems Inc. In 2018, its B2B services jumped an astounding 90%. This part of Office Depot's business now represents 16% of the $11 billion in revenue it earns annually.
The new partnership between Office Depot and Alibaba creates a strategic one-stop-shop that does far more than provide office supplies to SMEs in the United States. Both companies say the new partnership allows each to benefit from the other's core strengths.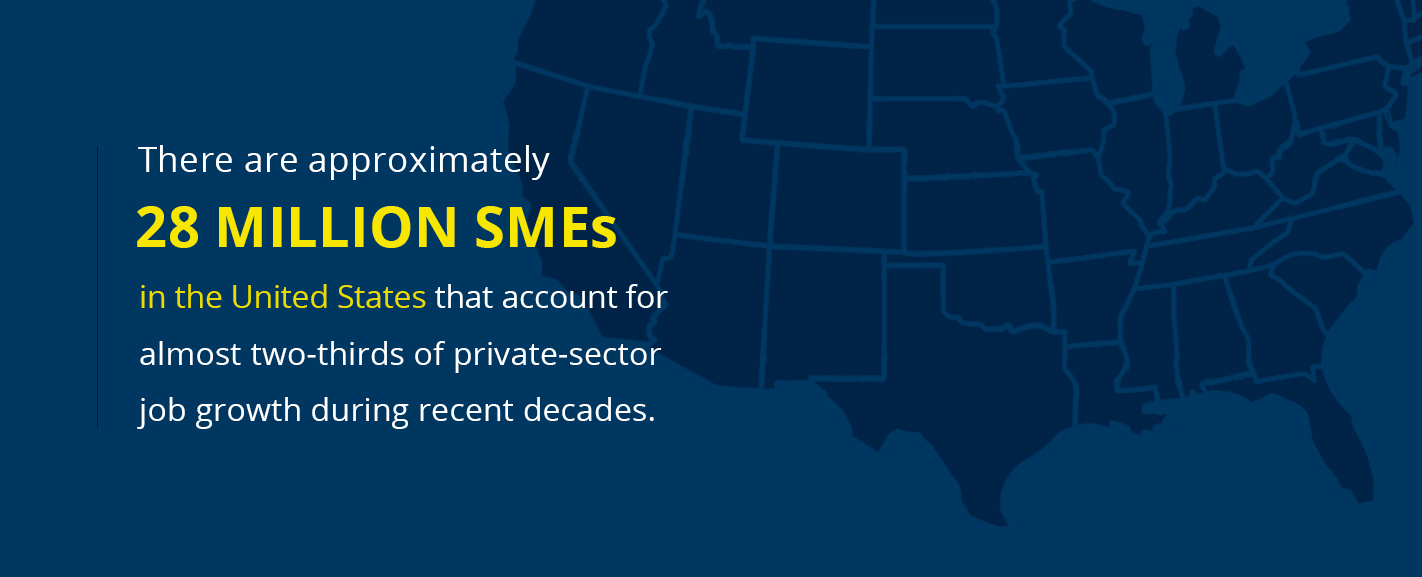 SMEs are the predominant type of business in the U.S. There are approximately 28 million SMEs in the United States that account for almost two-thirds of private-sector job growth during recent decades.
In 2016, the Census Bureau's Annual Survey of Entrepreneurs found that 99.7% of American businesses had 500 or fewer employees, 98.2% had fewer than 100 employees, and 89% had fewer than 20 employees. In addition, SMEs account for 94.3% of American companies that imported and exported products or services in 2015.
A 2016 report by the Brookings Institute found that the worldwide growth in access to the internet is providing new opportunities for SMEs to export their products and services to customers globally. The internet also gives SMEs access to services worldwide. For many SMEs, however, a way to access this global market — to sell products or to purchase products — has not existed until recently, which brings us to the partnership between Office Depot and Alibaba.
This new partnership will allow Office Depot to focus on services to SMEs that go beyond the traditional business supplies available in its stores and on its website. CEO Gerry Smith says the move to work with Alibaba is an even bigger step for the company than its decision to purchase CompuCom, as it provides a whole new channel and new choices for the company's customers.
Smith reiterates that the company is not abandoning retail in its brick-and-mortar stores or online, but wants to have a B2B platform that its customers can rely upon.
For Alibaba, the partnership with Office Depot gives it a footprint in the United States. There are more than 150,000 suppliers in Alibaba's network, but what Alibaba doesn't have in the United States is what Office Depot does — those 1,400 stores that can provide next-day delivery to almost 99% of businesses in the U.S. It is the main reason behind Alibaba's desire to partner with the American office supply company.
John Caplan, head of B2B for North America at Alibaba Group, says that the breadth of Office Depot's relationship with its business customers and its ability to provide services to SMEs is key for Alibaba. It's something Alibaba currently does not have in the United States, nor does it have the ability to offer next-day delivery to SMEs.
The Brookings Report, which focuses on how the internet will allow SMEs to expand into the global marketplace to sell products and services and purchase them, is key to this partnership. This expansion is what Office Depot and Alibaba hope to promote, as their new portal will allow SMEs in the United States to do more than just purchase products.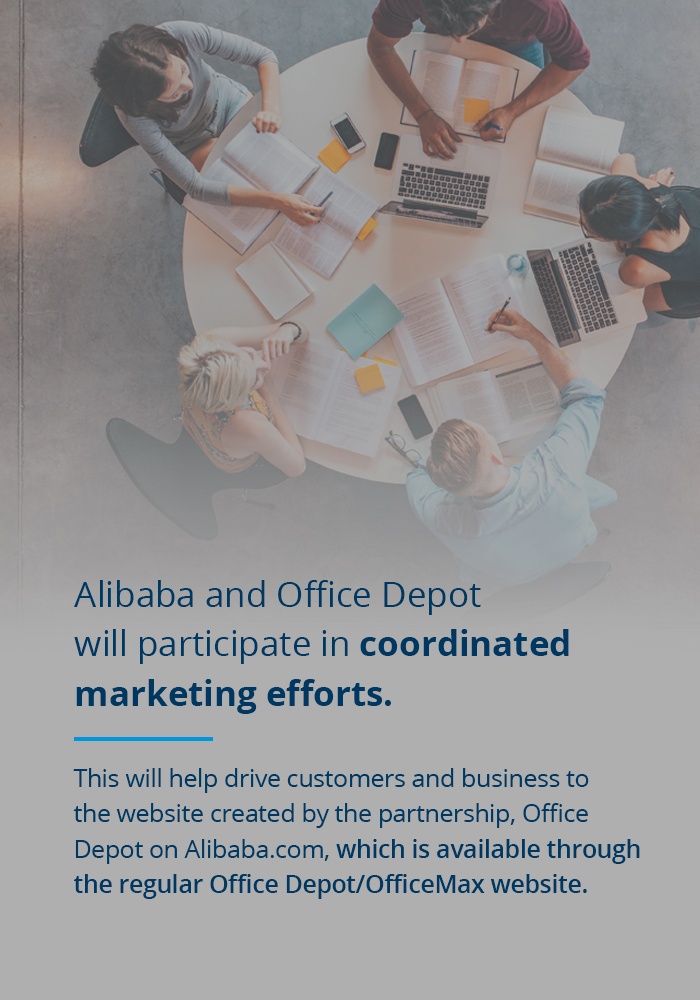 For both companies, this new partnership allows them to confront their main U.S. and global competitor, Amazon. Although the agreement is still in its early phases, it could be quite a boon for each company. In a filing with the Securities and Exchange Commission, the terms of the partnership deal and the companies' priorities are spelled out as follows:
Office Depot's sales staff will direct customers to Alibaba.com for any product that Office Depot does not offer.
Both companies will participate in coordinated marketing efforts. This will help drive customers and business to the website created by the partnership, Office Depot on Alibaba.com, which is available through the regular Office Depot/OfficeMax website.
Although the two companies have yet to sign a supply and logistics agreement, when it is signed, suppliers will be able to send deliveries to Office Depot, which will distribute them to its purchasers.
Alibaba.com will train and provide Office Depot's sales team with relevant materials.
The two companies will work together to analyze the behavior of customers and provide details about the purchasers of products available through the joint portal.
The agreement's initial term is 125 days. After that, either party can terminate the partnership with 30 days' notice to the other party.
Numerous details of the partnership have yet to be released, including profit estimates and revenue created by the partnership, so it is difficult to gauge what the long-term success of the project could be. It is fair to say that both companies are well-established in their segments, and both companies bring many resources to the partnership.
From a business perspective, the important thing now is for the two companies to smooth out any rough patches over the next few months and build on their successes. They need to keep costs down and profits up as they collaborate. One way they can accomplish this is by working with an innovative MRO procurement consulting and supply relationship management firm, which can provide the following services:
Perform MRO procurement consulting. This helps an organization determine the most cost-effective way to buy the supplies it needs to operate on a day-to-day basis as well as make any ongoing repairs. It also allows these companies to determine the most efficient way to find and buy supplies, reducing the need to make on-the-spot or unplanned purchases.
Improve vendor management.
Reduce redundancies that exist in the kind of partnership Office Depot and Alibaba envision. The right hand needs to know what the left hand is doing so that they're not repeating each other's actions.
Look for ways to increase factory and/or manufacturing plant productivity. This is accomplished by decreasing overall costs and reducing the downtime that can occur when equipment breaks or needs to be updated.
Examine how and where the companies spend money. This helps companies like Office Depot and Alibaba find areas where savings are possible.
Identify benchmarks that help companies determine if their spend is in line with industry standards.

Audit and review all data points, such as SKUs and invoices. This can help ensure that vendors do not overcharge for products and services and that they comply with their contracts.

Keep relationships with suppliers active and focused. A business can become too complacent in a relationship with a supplier and end up spending more money than is necessary. Sometimes this means the supplier will put its interests ahead of the company's because it is so comfortable in the relationship. Regular evaluations and audits keep the relationship with the supplier on-track.
Balance quality with costs. Basically, this means making sure a company isn't too dazzled by what looks like a great price and ends up giving up quality. Lower prices are wonderful, but without quality materials, a business will spend more on replacements over time than if it had purchased a better, more expensive option. As the old saying goes, if it seems too good to be true, it probably is. MRO procurement consultants help a company keep that in mind.
Office Depot and Alibaba may need all these services. Considering the B2B structure they want to develop and how they want to reach new markets in the United States and globally, such assistance can help them sharply focus on what they consider important.
The same is true for any business that wants to make sure its procurement procedures work. If your company is interested in these types of services, procurement consulting and supplier relationship management can help you ensure you spend your money in the right place, in the right way, at the right time.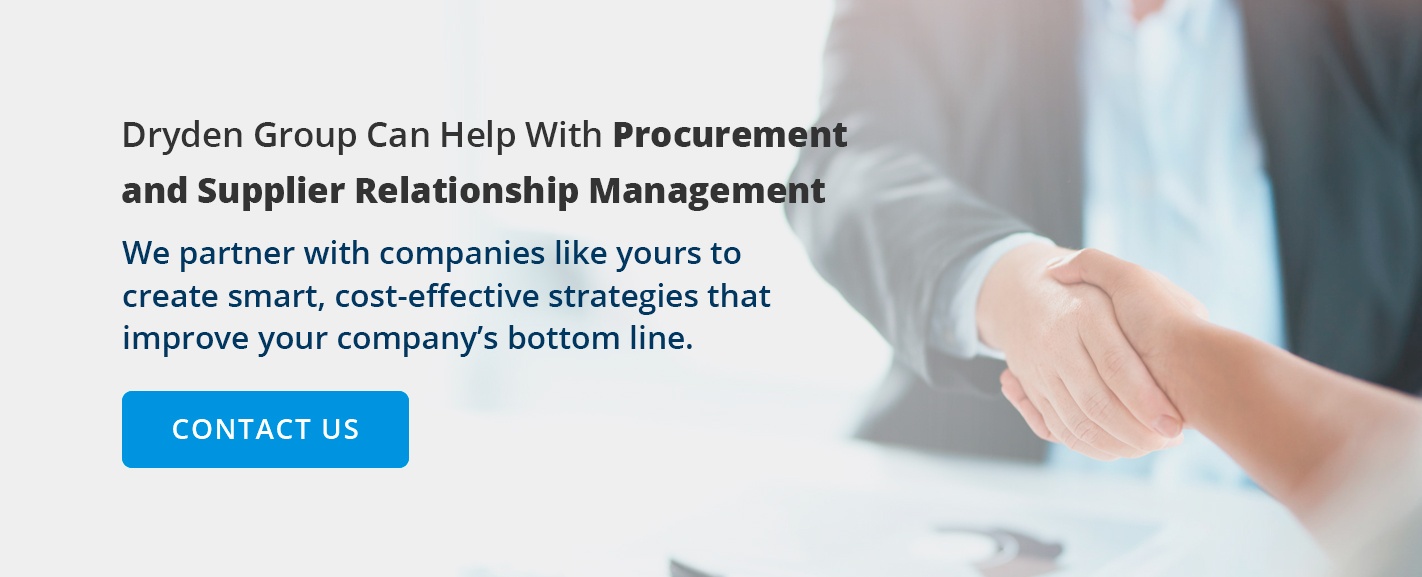 With their new partnership, Office Depot and Alibaba will offer businesses in the United States and worldwide a new way to purchase the things they need. When such big business deals come about, working with Dryden Group can help manage new supplier relationships that result and make sure procurement processes achieve their optimal goals.
Since 2001, Dryden Group has been helping companies and businesses improve these procurement and supplier relationships. We partner with companies like yours to create smart, cost-effective strategies that improve your company's bottom line.
If you want to see what Dryden can do for your company, call us at 610-644-0990 or visit our Contact Us page, where you can tell us what services you are interested in exploring. A member of our team will get back to you as soon as possible.